America's Next Top Model
by Sarah
(NJ)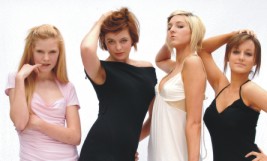 Strike a Pose
This America's Next Top Model Party was a great party. There were bags and bags of dress-up clothes ranging from feather boas to 1 high heeled boot. Everyone had 15 minutes to grab ANYTHING in the bags, and make an interesting outfit.

There were 5 judges in total, wearing the name-tags of Twiggy, Ms. Jay, Tyra, Neigel, and _____ (whoever would be a photographer).

The next part can be played 2 different ways. If you are on a low budget, then when the 15 minutes are up, you have a walk off and have the judges score you. Then they name someone America's Next Top Model.

After the walk off, we had an interview, and we could be whoever we wanted to be. We could be anyone from snappy bi*ch to a sweet and innocent model.

If you want something a bit more exciting, hire a photographer and have the Cover Girl photo-shoot and then a walk-off.

At the party there was tons of food, but you can basically serve anything.

For goody bags, each of us got a trophy with different awards on it. EXAMPLE: best walk, best eye makeup, best personality, etc. but make sure there is an award for everyone!!

The invitations said ______ Mail on the front, using the birthday girl's name on the front instead of Tyra. On the inside it said, "You wanna be on top?"