Animal Themed Bat Mitzvah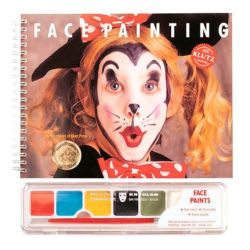 Face Painting - Animal Faces
My Bat Mitzvah party took place in a big room in my temple that is used for special occasions.
The place was decorated with huge blown up pictures of my cat and my rabbit, plus some pictures of my friend's pets! The tablecloths were light blue with yellow cats on them. The balloons were shaped like animals.
Some of the activities were getting your face painted to look like an animal of your choice, making hats shaped like animals, henna tattoos, and a lot more!
The invitations were shaped like rabbits, which are my favorite animal.
My outfit was a cute pale yellow skirt with a pale blue ruffled collared shirt. I also wore a necklace with a dog on it. The guests dressed casually, but very nicely.
The party favors for the girls were pink shirts that said, "I Am Purrfect" on them with a picture of a cat. The boys got caps that were blue that said, "I am nutty for nuts!" on the shirt in yellow with a picture of a squirrel. Soo cute!
The party was a blast and I will never forget it. Yeah!!!!!!!!!