Artist Theme Bat Mitzvah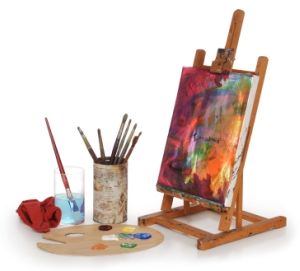 Art Theme Party
The party was awesome! There were tables all around where people were doing different kinds if art projects, and they got to take home what they made.

The centerpieces of all the tables were either famous pieces of art or art that I made myself.

Since it was an art theme, I didn't need to use specific colors, so I used my favorite ones: green, blue, and pink for the balloons and the tablescloths.

To eat, there was a buffet with lots of different foods and people served themselves. For dessert there were plain white cookies, very big, and edible decorating paint. Everyone could decorate their cookies however they wanted to.

As for decorations, I blew up posters of a lot of famous paintings and painters and hung them all over the walls for people to autograph if they wanted too.

The party started at 5:30 and ended at 11:00.

The party favors were whatever people made during the party. It was great!



Art Trivia | Art Supplies
Join in and write your own page! It's easy to do. How? Simply click here to return to Bat Mitzvah Party Themes.
May 02, 22 10:18 AM

Need some last minute Mother's Day games and ideas? We've got some here...

Mar 16, 22 01:08 PM

Host your best St. Patrick's Day party ever with these cool party games and activities. Challenge friends to a round of green trivia, write funny limericks, or play a right left leprechaun game.

Feb 12, 22 05:36 PM

A challenging list of multiple choice super bowl trivia questions to add to your trivia, football, or Super Bowl parties. Use them as an icebreaker or play a full out competition.