Artist Theme Bat Mitzvah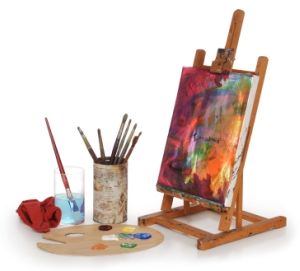 Art Theme Party
The party was awesome! There were tables all around where people were doing different kinds if art projects, and they got to take home what they made.

The centerpieces of all the tables were either famous pieces of art or art that I made myself.

Since it was an art theme, I didn't need to use specific colors, so I used my favorite ones: green, blue, and pink for the balloons and the tablescloths.

To eat, there was a buffet with lots of different foods and people served themselves. For dessert there were plain white cookies, very big, and edible decorating paint. Everyone could decorate their cookies however they wanted to.

As for decorations, I blew up posters of a lot of famous paintings and painters and hung them all over the walls for people to autograph if they wanted too.

The party started at 5:30 and ended at 11:00.

The party favors were whatever people made during the party. It was great!



Art Trivia | Art Supplies
Join in and write your own page! It's easy to do. How? Simply click here to return to Bat Mitzvah Party Themes.
Feb 12, 23 04:19 PM

Add an extra challenge to game day with this Super bowl picture puzzle rebus. Guess the names of 10 players from the Kansas City Chiefs and Philadelphia Eagles.

Feb 12, 23 04:16 PM

Host a Super Bowl party with great food, games and friends. Add our Super Bowl trivia questions and icebreakers, and get everyone's game predictions pre-party.

Nov 23, 22 03:29 PM

12 days of Christmas legend game based on lyrics used as a secret code to share faith and avoid persecution. Match each gift with its symbolic Christian meaning