Back to Back Party Game
To Win You Have to Pay Attention
The objective of this back to back game is to test the observation skills of your guests.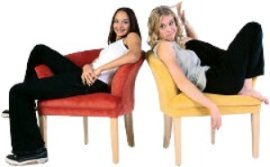 Allow your guests to mingle for a reasonable amount of time. Then, give each person a paper and pencil have them pick a partner. Next, ask each pair to sit back to back (no peeking).

If there is an uneven amount of guests you may choose to partner with the odd woman out. Just be sure you are facing in a direction that allows you to observe the other players.
Finally, ask your guests the following questions one by one (or make up your own questions). 
Back to Back Party Game Questions
01. What color are your partner's shoes?

02. How many rings is your partner wearing?

03. Is your partner wearing a jacket or sweater?

04. Is your partner wearing a necklace?

05. If your partner is wearing a watch is the band leather (or leatherlike),
metal or other?

06. Is your partner wearing eyeliner?

07. Is your partner wearing any hair accessories?

08. Is your partner wearing nail polish?

09. What color are your partner's eyes?

10. Is your partner wearing a belt?

11. What is the main colour of your partner's pants, skirt, shorts or
dress bottom?

12. If your partner is wearing earrings are they studs or do they dangle?

13. Does anything your partner is wearing have a zipper at the front?

14. Does your partner's shoes have shoelaces?

15. Is your partner wearing her hair up or down?


The person who answers the most questions correctly is the WINNER!


Variation for a Baby Shower or Mother's Day

And Mommy Wore...
Nov 06, 19 01:59 PM

To win this Christmas carol game you might need a thesaurus of word knowledge. Can you guess the popular Christmas songs from their fun new synonymous titles?

Oct 18, 19 06:02 PM

Play this ghost story mad lib game at Halloween parties, camp, home, and school. Create a funny scary story that will make you scream with laughter.

Oct 16, 19 02:57 PM

Plan to play Family Feud game Halloween edition at your next Halloween party using our survey Q&As. Check out the fun video to spark ideas for making your game spooktacular. Time to play!