Backyard BBQ Summer Party
Backyard BBQ Summer Party
by Amanda
(Clarksville, TN, USA)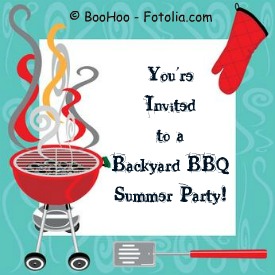 Backyard BBQ Summer Party


I'm currently planning a backyard BBQ summer party that I'm hoping I'm able to have. I know some of this is not possible for all girls, but I hope you will get some ideas for your party!(:

GUEST LIST: Both boys and girls. Ages 11-13. About 10 total.

VENUE (LOCATION): My Grandparent's house. They have a pool, pond, forest, and lots of land to work with!

TIMING: Probably 4-10. I know this sounds like a long time, but having a lot of activities and FUN makes it go so much faster!

DECORATIONS: No decorations are needed. If wanted you could have balloons and streamers but in my opinion it's a waste of space and money.

FOOD: Just simple BBQ food would work. Like burgers, hot dogs, chips, and fruit/veggie trays would do. Cupcakes could make people sick due to the heat, so I would just advise that you not provide dairy products.

ACTIVITIES:
Who doesn't love inflatables?! I would really like to have a HUGE bouncy house and either an ah-mazing obstacle course inflatable with a slide in it or just a giant(DRY) inflatable slide.


Yard games are a good idea to have set up on the sidelines. Corn hole, volleyball, and badminton are just a few good ones.


Water balloons and water gun fight, anyone?! It's so much fun to have LOTS of water balloons(say 800!)and just start a water fight! And smart girls can know where the water guns are for a sneak attack on the guys!


Swimming makes every summer party 10 times better! My grandparents have an awesome pool with a slide, diving rocks, and waterfalls. I would love to go to local drugstores, Wal-Mart, Dollar General/Tree and buy LOTS of swimming floats, inner tubes, noodles, and beach balls and just fill the pool with them. When you have lots of friends you always come up with games, so there is no need to plan lots of swimming activities.


Bonfires are essential to summer! My grandparents have lots of area for a bonfire so I would like to gather fallen logs and place them around the fire pit to create lots of seating. I would cover them with thick blankets so people's booties don't get scratched from the logs! And what would a bonfire be without s'mores?! Of course I would have lots marshmallows, chocolate, and graham crackers available for anyone in need of some energy!


I want to bring the drive-ins back, but without the vehicles! My Grandparent's own a projector and a screen that I would be able to use outdoors, so I'm thinking lay out LOTS of warm blankets in front of the screen and once it's super dark, pop in a movie and everybody just chill out and watch it. Personally I would pick a horror movie (it's your choice on if it's corny or not) because you actually have people to scream with and if your crush is there, well it's a good chance to do some flirting!
Join in and write your own page! It's easy to do. How? Simply click here to return to Party Themes.
Nov 25, 23 03:52 PM

Printable left right Christmas game based on the story of Scrooge from A Christmas Carol by Charles Dickens. Read the story and pass gifts left and right.

Nov 20, 23 05:55 PM

A crazy Christmas scavenger hunt involves finding unusual Christmas items that have been set up in the hunt area ahead of time. Will your guests spot that Rudolph has a green nose, etc.?

Nov 20, 23 04:58 PM

Over a dozen Christmas scavenger hunts to celebrate the holiday season. Tons of fun Christmas treasure hunt riddles, clues and printable lists.