Black and Gold Bat Mitzvah
by Gemma Deborah Jessica Fantoni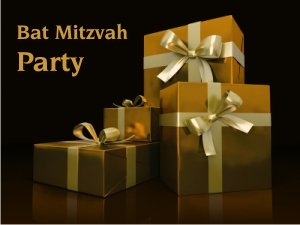 Black and Gold Bat Mitzvah
My Bat Mitzvah started at 5:30 and ended at 10:30.

When everyone arrived there was a big reception with a band and with little canapes.

Then, when it was around 6:00 we went into the main room (my bat-mitvah was in a hotel) and everyone sat down and then they said, "Please give a massive cheer to your bat-mitvah girl GEMMA!" Everyone started cheering and I walked down the stairs like a princess.

Above me there was black and gold ribbons attached to the ceiling and they played the song 'Black and Gold.' It was incredible. I had two hot dancers and a really incredible band.

My dad then stood up and said a speech and gave me the best present of all, a trip to New York with me, my parents, and my two sisters. I started crying and I went and hugged him.

We then did dancing for a while and had fantastic food such as, crepes, savory and then sweet. It was amazing.

My best friends and my sisters then did speeches and then I did mine.

All my family and all of the 90 children said it was a really good one.

We then danced for ages and then we went outside to see the most incredible fireworks ever. They were better than the New Years Eve ones.

I then cried and we went back inside and danced until the end.

That night a few friends and loads of family stayed at the hotel with us and I opened all my presents.

I really enjoyed the fact that because I am a liberal Jew I managed to say the whole service and I think I still would have done it even if I didn't have a party like that one.

It was AMAZINGLY AMAZING!


Black and Gold Party Supplies
Get FREE Shipping on party supply orders
of $99+ with coupon code VCJ3J3
Printable Bar and Bat Mitzvah Games
Join in and write your own page! It's easy to do. How? Simply click here to return to Bat Mitzvah Party Themes.
Apr 26, 23 04:28 PM

Guess the Princess from an image of something they are associated with like a chameleon for Rapunzel or a pea for Princess Daria. Printable game with answers.

Feb 12, 23 04:19 PM

Add an extra challenge to game day with this Super bowl picture puzzle rebus. Guess the names of 10 players from the Kansas City Chiefs and Philadelphia Eagles.

Feb 12, 23 04:16 PM

Host a Super Bowl party with great food, games and friends. Add our Super Bowl trivia questions and icebreakers, and get everyone's game predictions pre-party.