Bollywood Party Ideas
Host a Unique Indian Themed Celebration
Theme
Bollywood Party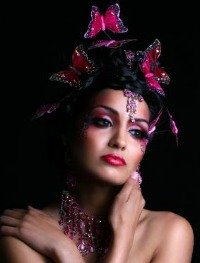 Bollywood Party Ready
What is Bollywood?
Bollywood, a combination of Bombay (now called Mumbai) and Hollywood, is the name of the Indian film industry and is the largest film market in the world.
It is known for its melodramatic plots featuring heroes and villians, its colorful scenery, lively music and dance, and of course, romance. 
Its growing popularity has created a fascination with Indian culture and made the Bollywood theme one of the most fashionable party choices.
So pull out that sari, light up the incense, and prepare to take your guests on an exotic trip to traditional India, complete with spicy curry, sensational colors, and unforgettable fun!


Bollywood Party Invitation Ideas
Your invitations should reflect the extravagance and bright colors often synonymous with Bollywood.

First, choose paper in muted oranges, bright pinks, and deep purples and print the party information in glittery gold script.


Adorn the invitation with sari silk, jewels, sequins, ribbons, or flowers.


For an extra added effect, address the envelope in fuchsia or gold and glue on small jewels.


Bollywood Decoration Ideas
Use brightly colored sari material to cover walls, windows, and tables, and hang orange, fuchsia, or yellow organza in doorways. If organza is unavailable, beaded curtains will work just as well.
To create a more authentic ambiance, use low tables with large floor cushions for the guests to sit on. Place reed mats over brightly colored tablecloths and use large bowls filled with water, stones, beads, and floating flowers as centerpieces. Choose plates and cutlery in colors to complement your décor. Colorful floor mats, lanterns, Indian music, and burning incense complete the effect. Remember to keep lighting low and use plenty of candles.


Decorations for Large Events
Bollywood Theme Party Food Ideas
To give your guests a true Bollywood experience, serve a buffet filled with popular Indian appetizers and snacks such as samosas (potato filled pastries), aloo tikki (potato patties), roti breads, vegetable rolls, kebabs, masala papad, Tandoori chicken, and of course, plenty of curry dishes. And to temper the spices or cool the mouth, be sure to include Lassi, a favorite Indian yogurt drink, and round your selection off with Gulab ka sharbat (rose petal juice), and masali chai.
If you are hesitant about making your own cusine, a great variety of Indian appetizers can be found at many major grocery stores as well as Indian specialty shops.


Bollywood Party Games and Activities
There are a variety of activities that will make your Bollywood party an unforgettable event.
Ladies could try their hand at the Indian art of beaded necklace making, design jeweled flip-flops, or paint toenails, and men could learn how to wrap a turban. Since Bollywood is famous for its music and dance, purchase or rent an instructional DVD or hire an instructor and give your guests the opportunity to learn some of the dance steps.
One of the more popular options is a movie night, allowing guests to view some of the critically acclaimed and award winning movies of Bollywood.
For the more artistic and daring hosts or guests, try Henna painting - the tattoo and body art popular among the Indian people, and recognizable for its intricate and beautiful designs. Henna kits and stencils can be purchased and tattoos will last for about a month.
Bollywood Costumes
Bollywood Party Favors and Prizes
Ask guests to come in costume or dressed as their favorite Bollywood star, and award prizes for the most creative, most accurate, most colorful etc.
Small tokens could also be given to the best Bollywood dancer or to those guests who win any games that may be played throughout the evening. Prizes could include bangles, bindis (forehead dot or art), nose rings (non-pierced), beaded necklaces, or saris and turbans.
Although favors are not required, depending on the occasion, you may wish to send your guests home with a cd of Bollywood music, a copy of a Bollywood DVD, or for something less expensive, a small sample of sandalwood incense or package of curry spices.


Bollywood Party Supplies
Jul 25, 23 02:35 PM

Fun and challenging baby animal name game. What baby animal names do these 15 image clues rhyme with? Challenge yourself and your party guests. Free printable game and answers.

Jun 27, 23 02:30 PM

Challenge friends and family with this July 4th songs trivia quiz based on patriotic lyrics. From traditional to modern, there's a song for every generation.

Apr 26, 23 04:28 PM

Guess the Princess from an image of something they are associated with like a chameleon for Rapunzel or a pea for Princess Daria. Printable game with answers.