Bridal Shower Geeks Game
by Anonymous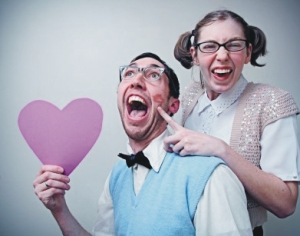 Geeks in Love

To play the bridal shower geeks game...


Split your guest's up into 3 or 4 groups.


Give each team a photo of the bride and groom (either separately or together) that was taken a couple of day's before the event.


Have each team draw what the couple looked like in highschool (including pimples/zits, nosehair, etc.).


Give teams 5 to 6 minutes to complete their drawings.


Whatever team makes the couple look the ugliest, or funniest, or most realistic wins!!!

Note: You have to try this. It's very interesting. WINK WINK!!!




Couples Bridal Showers Games
Join in and write your own page! It's easy to do. How? Simply click here to return to Bridal Shower Games.
Nov 23, 22 03:29 PM

12 days of Christmas legend game based on lyrics used as a secret code to share faith and avoid persecution. Match each gift with its symbolic Christian meaning

Sep 23, 22 04:50 PM

Printable Would You Rather Halloween Game with fun either or icebreaker questions to get your party off to a howling start.

Sep 08, 22 12:25 AM

Printable Halloween pass the gift game poem for 10 players or more. Wrap enough treats and gag prizes to give one per guest or play the game white elephant style.