Bridal Shower Get To Know You Game
by Andrea Chambers
(Mesquite, Texas)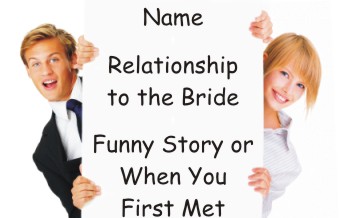 The idea of this Bridal Shower Get To Know You game is to introduce yourself. Also, it allows everyone to know how guests are related to or know the bride.

First, make a poster that says:
- Name
- Relationship to the Bride
- Funny story or When You First Met

This is so everyone does not forget about the focus of the game.

The catch to this game is you may not use any pronouns - I, you, he, she, me, my, mine, etc. This makes the guests speak very funny and slow. If you say a pronoun, then you have to wear a shower cap. We had a funny colored one to wear. Once you have the shower cap on, you may speak normal.

One of the introductions may start like this..."This guest's (pointing to yourself) name is Andrea. Andrea is the sister of the bride. Andrea met Angela on Andrea's first birthday, since Angela was born on Andrea's birthday..." It is so funny because people say some crazy things trying to avoid those pronouns.

You can do different variations of this game.

If you get through it without using pronouns, you win a small prize.

This is a fun game. It lets everyone get to know each other and brings a lot of laughter. We video taped it and enjoy watching it!



Personalized Favors
Instant Wedding Toasts
Join in and write your own page! It's easy to do. How? Simply click here to return to Bridal Shower Games.
Feb 12, 23 04:19 PM

Add an extra challenge to game day with this Super bowl picture puzzle rebus. Guess the names of 10 players from the Kansas City Chiefs and Philadelphia Eagles.

Feb 12, 23 04:16 PM

Host a Super Bowl party with great food, games and friends. Add our Super Bowl trivia questions and icebreakers, and get everyone's game predictions pre-party.

Nov 23, 22 03:29 PM

12 days of Christmas legend game based on lyrics used as a secret code to share faith and avoid persecution. Match each gift with its symbolic Christian meaning