Bridal Shower Newlywed Game
Bridal Shower Newlywed Game
There are several ways you can play the bridal shower newlywed game from the traditional 7 questions that go back and forth between the bride and the groom to simply compiling a list of questions to be answered by the groom prior to the shower.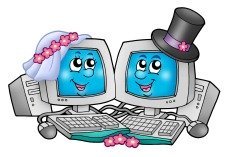 For my mom's shower last year we used Skype to ask the groom-to-be questions and get his responses. It was hilarious.

The bridal shower newlywed game questions I used at my mom's shower were from Party Fun Printables, but you can choose to create your own questions or use some of the ideas below. 


Preparing Your Newlywed Game
To begin, compose a list of newlywed game questions specific to the bride and groom (eg. Where did you share your first kiss? What about him/her annoys you? What is his/her favorite dessert?)
You can even visit YouTube and get inspiration from television Newlywed game clips like...

Click here for one of the funniest newlywed game answers of all time.



Sample Bridal Shower Newlywed Game Questions
1. If kissing were an Olympic sport, what medal would your partner bring home?
a. Gold
b. Silver
c. Bronze
2. What is the one thing your partner will not leave the house without doing?
3. What game show title best describes your relationship?
a. Love Connection
b. Family Feud
c. Let's Make a Deal
d. Deal or No Deal
e. Jeopardy
Need more inspiration? 11 printable bridal shower newlywed game questions.


How to Get the Groom's Answers
Generally bridal showers aren't coed, so you'll want a way to get the groom-to-be's answers for your party without requiring him to attend the party. There are a number of choices.
Have the groom answer the questions on paper for your reference.


A few days prior to the shower meet with the groom and interview him on video

 

using your questions. Then, at the shower explain the game and have all the guests write down their guesses as to how many answers the bride will match with the groom. Have the TV/VCR set to go and ask the bride the same questions you asked the groom. After the bride answers each question play the groom's answer "live". Whichever guest gets closest to guessing the number of answers she thought the groom/bride would match, wins a prize.

Note: When videotaping, edit what you think might be humiliating to the bride-to-be. As the host, you know best what guests will be attending the shower. With that guest list in mind decide what will be funny versus what will be completely inappropriate.


If you are unable to video tape, try setting up a telephone interview with the groom the night of the shower. Put the groom on hold while you ask the bride a question, and then put him on speaker phone to ask him the same question.


Use Skype to communicate live with the groom and get his answers at the shower. Be sure to hook of speakers to your computer of run it through a big screen tv so that all your guests can hear the answers.
This game truly is a lot of fun. It's also great for giving your guests a little glimpse of the groom and the couples' relationship.


Nov 23, 22 03:29 PM

12 days of Christmas legend game based on lyrics used as a secret code to share faith and avoid persecution. Match each gift with its symbolic Christian meaning

Sep 23, 22 04:50 PM

Printable Would You Rather Halloween Game with fun either or icebreaker questions to get your party off to a howling start.

Sep 08, 22 12:25 AM

Printable Halloween pass the gift game poem for 10 players or more. Wrap enough treats and gag prizes to give one per guest or play the game white elephant style.
Bridal Shower Newlywed Game