Butterfly Birthday Party
by Vima
(Philippines)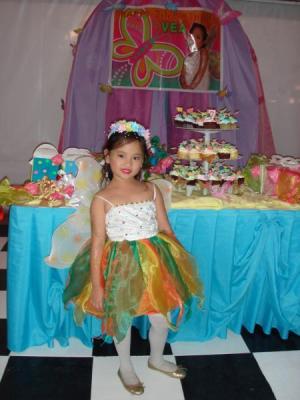 Vea's 7th Butterfly Birthday Party
My daughter was celebrating her 7th birthday with a concept of butterfly costumes and decorations. Everybody here in our place was amazed at the effect that we put together. With the artificial butterfly wings hanged on the ceiling, on the wall and on the table and with artificial flowers on it.

We also gathered lots of live butterflies that we put inside a cage with a colorful cloth covering. I also made some small cages just for the kids to put the butterflies they caught. The butterflies were placed inside the cage that I had made.

We also had games that were related to the butterfly.

We let the kids decorate or draw a butterfly with glitter and beads on it. The best drawing was rewarded.

The last part was a wonderful dinner with our closest friends. My daughter Vea experienced a different kind of party here in our city.