Cape Town South Africa Trivia
Cape Town South Africa Trivia

This Cape Town South Africa trivia is perfect for geography, travel, and trivia enthusiasts alike. Whether you're adding the questions to a general trivia quiz, using them for a fun geography class test, hosting a "world travel party" or just brushing up on travel trivia, these Cape Town South Africa trivia questions will get you thinking and talking. Have fun!


Cape Town South Africa Trivia Questions
01. Who is credited with 'discovering' Cape Town for the western world?
02. What is the name of Cape Town's famous botanical garden?
03. Where would you find Cape Town;s naval harbour?
04. How many lighthouses are there at Cape Point, South Africa?
05. Who was the first democratically elected President of South Africa?
06. What is the name of the island on which Mandela was imprisoned during the apartheid years?
07. What is South Africa's most famous mountain called?
08. What is the capital of South Africa?
09. Which country is to host the 2010 FIFA World Cup?
10. For which flowers is Cape Town most famous?
11. What is the name of the world's smallest floral kingdom?
12. What was the name of South Africa's infamous social engineering system?
13. Which two oceans meet at South Africa's southern tip?
14. What species of penguin has a breeding colony in Cape Town?
15. Where was the famous Cullinan diamond found?
16. In which year was Nelson Mandela released from prison?
17. Which is the largest species of shark found in the oceans off the Cape Town coast?
18. What is the name of the cold ocean current that races up the west coast of South Africa?
19. Which countries share borders with South Africa?
20. What is the name of the Bay that shelters Cape Town's harbour? 
Cape Town South Africa Trivia Answers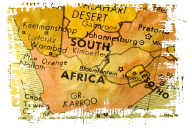 01. Bartholomeu Diaz / 02. Kirstenbosch Botanical Garden / 03. Simonstown / 04. Two (The first one was built too high and was often obscured by cloud - a new one was built lower down). / 05. Nelson Mandela / 06. Robben Island (he was there for 17 years) / 07. Table Mountain / 08. Trick question! There are 3 (Pretoria - administrative capital, Bloemfontein - judicial capital, Cape Town - legislative capital) / 09. South Africa / 10. Proteas (These flowers are part of the fynbos family which occurs nowhere else in the world) / 11. Cape Floral Kingdom / 12. Apartheid (meaning 'apartness') / 13. The Atlantic Ocean and the Indian Ocean / 14. The African penguin (formerly known as the Jackass penguin for its braying call) / 15. Kimberley, South Africa / 16. 1992 / 17. Great White Shark / 18.The Benguela Current / 19. Namibia, Botswana, Zimbabwe and Mozambique / 20. Table Bay


Questions and answers for this Cape Town South Africa Trivia
provided by Alison from Cape Town Family Holiday Magic

Apr 26, 23 04:28 PM

Guess the Princess from an image of something they are associated with like a chameleon for Rapunzel or a pea for Princess Daria. Printable game with answers.

Feb 12, 23 04:19 PM

Add an extra challenge to game day with this Super bowl picture puzzle rebus. Guess the names of 10 players from the Kansas City Chiefs and Philadelphia Eagles.

Feb 12, 23 04:16 PM

Host a Super Bowl party with great food, games and friends. Add our Super Bowl trivia questions and icebreakers, and get everyone's game predictions pre-party.
Cape Town South Africa Trivia