Dylan's Candy Bar
by Ashley
(Kansas)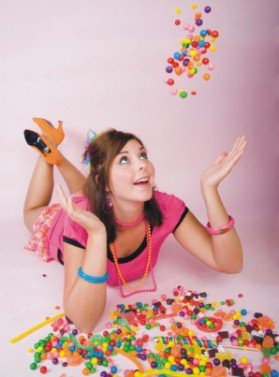 Sweet Stuff
I am currently planning this candy party, so technically I haven't attended it yet. However, I can describe to you what I have imagined it to be and my ideas.

For those of you who don't know about Dylan's Candy Bar, it is Ralph Lauren's daughter's candy store which carries about a million different types of candies. It's pretty amazing and a bit expensive so I am taking matters into my own hands to get this party the way I want. Now enough of me running my mouth.



Decorations:
Streamers, plates, napkins, etc. all in cotton candy pink and blue colors. The party is at a park so each picnic table has a place setting of a vase of lollipops. Each table also has a name
(Candy Cane Lane, Starburst Street, etc.)
I am going to order a personalized candy bars for place settings! This is very neat thing where they take a candy bar wrapper, place the person's picture and some info on them and put it on the candy bar!
I might also divide up the picnic tables and have half with a gumball machine as a center piece and the other half with a vase of lollipops as the centerpiece.
I was thinking of having a sign with a clever poem that uses candy names. For instance a welcome sign could hang on a tree and say, "You are a lifesaver for coming to my party! Don't snicker I really mean it!" or something along those lines.
Food:
Obviously mountains of candy... As for the actual food, I was thinking finger foods that went along with the sweet theme such as, sweet-ish meatballs
(swedish meatballs)
and sweet potato pie, etc.
As for the cake I was thinking of making that gumball cake by betty crocker that I found on this very site!
Games:
I was going to have a waterslide. Although it doesn't go along with the theme, the kids will enjoy it and it will keep them cool
(the party is in July).
I was also going to have candyland set out and a game called name that candy where you describe a candy in a riddle and the other team tries to guess which candy it is.
Invitations:
A candy bar invite or an invite that looks like a gumball machine.
I'm not done planning but I still hope that this inspires other people for their own parties!!!
By the way, this would be a wonderful sweet sixteen party hence the "sweet shop" it could be (enter name here)'s sweet sixteen sweet shop or something like that.