Find Me Picture Scavenger Hunt
This Find Me picture scavenger hunt would be best held at a place where there are a lot of man-made objects and structures (ie. buildings, bridges, statues, playground equipment, etc.).

It involves going to the location prior to your hunt and photographing small pieces of objects and structures you find there. 

The images will then need to be cropped and organized in a booklet or on a sheet of paper.

Note: Be sure the things you photograph will be there on the day of your hunt.
(ie. Don't photograph the end of a squirrel's tail unless the squirrel is made of stone.) 

Check out the examples immediately below.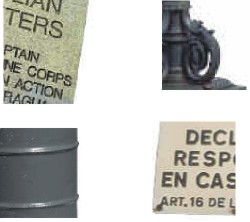 These examples are a little more detailed than they need to be(depending on your venue), but I wanted to be sure that you would get the idea. The pictures these pieces actually came from are at the bottom of this page. 

Your list will obviously depend on where you hold your hunt, however, here are a few ideas for pictures to take to get you started.


Find Me Picture Scavenger Hunt Ideas
A small piece of graffiti on a washroom stall, wall, garbage can, etc.

A carving on something wood like a tree, bench, bridge, doorway, etc.

A splotch of paint on a sidewalk, building, etc.

Lettering on a sign, statue, restroom, etc.

An unusual branch

A broken link on a swing chain

The hand of a statue 

Unique bases on lamp stands, benches, etc.

A break in a sidewalk, step, pool edge 


The list of ideas is endless and only limited to your venue and your imagination. 

Take 10 to 20 pictures or more, depending on how long you want your hunt to last. You may also want to take enough pictures to give each team different items to look for. This helps to minimize the cheating factor. 

Once your pictures have been taken and developed (probably would be a good idea to get multiple copies), make up a small booklet for each team. Mount the pictures on pages with space below to write what object they believe the picture was part of. Request that the teams write detailed information on where the object was located. (ie. 'the beak of the bird on the birdbath statue in the middle of the park,' as opposed to 'part of a statue'). 

Either set a time limit and choose a winner on most items found or play till one team has found all of their items. 

Fun variation: If you have a moderator for your scavenger hunt you could add an extra option. Cut up each picture into about 8 to 10 pieces and put each in it's own envelope. Give each team one envelope to start. Each team puts their picture together and looks for their item. Upon finding an item, they return to the moderator who verifies their find and gives them another envelope. Team to find the most items wins. 

The original find me picture scavenger hunt items noted above.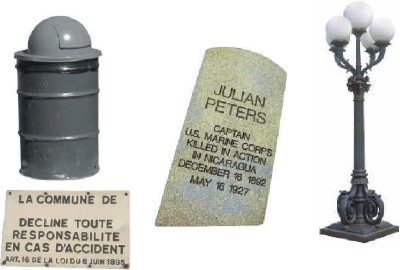 Nov 25, 23 03:52 PM

Printable left right Christmas game based on the story of Scrooge from A Christmas Carol by Charles Dickens. Read the story and pass gifts left and right.

Nov 20, 23 05:55 PM

A crazy Christmas scavenger hunt involves finding unusual Christmas items that have been set up in the hunt area ahead of time. Will your guests spot that Rudolph has a green nose, etc.?

Nov 20, 23 04:58 PM

Over a dozen Christmas scavenger hunts to celebrate the holiday season. Tons of fun Christmas treasure hunt riddles, clues and printable lists.