Friday the 13th Theme Party
Friday the 13th Theme Party
by Ciara
(Bisbane, Australia)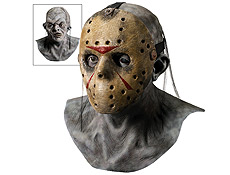 Friday the 13th Jason Mask
My party was on Friday the 13th so I decorated a big room adjacent to my house with all scary things from Halloween and other freaky things.

The invites were written as a short scary movie with all the details on it. I invited my whole class so there was a mix of boys and girls.

We put some music up REALLY loud and danced and talked.

After dinner (ghost shapes burgers) we all ran around in the pitch black playing "Murder in the Dark"

Then we cut the cake and people's parents started arriving.

The party was after school on Friday the 13th and finished at 9:30 pm.

All of the guests dressed up scary and we had a ball. It was really fun.

People still talk about it now - the party was in May, and now it's August :) Have fun!
Join in and write your own page! It's easy to do. How? Simply click here to return to Party Themes.
Nov 25, 23 03:52 PM

Printable left right Christmas game based on the story of Scrooge from A Christmas Carol by Charles Dickens. Read the story and pass gifts left and right.

Nov 20, 23 05:55 PM

A crazy Christmas scavenger hunt involves finding unusual Christmas items that have been set up in the hunt area ahead of time. Will your guests spot that Rudolph has a green nose, etc.?

Nov 20, 23 04:58 PM

Over a dozen Christmas scavenger hunts to celebrate the holiday season. Tons of fun Christmas treasure hunt riddles, clues and printable lists.