Greek Mythology Sleepover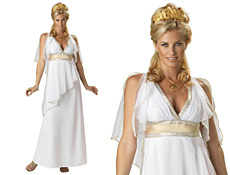 Aphrodite Costume


For my Greek mythology sleepover I had the guests dress in Greek like costumes and when the arrived, the inside of my house looked life a Greek palace.

I took my guests items to Aphrodite's enormous closet and escorted the guests to the backyard.
There, we decided who our character was.

For a few minutes we did research on our person. Then we made a game out of it.

For dessert we had the most amazing parfait! For snacks we had grapes(of course!).

I had the most amazing time with my friends and they did as well.


Information on 100s of Women in Greek Mythology
Join in and write your own page! It's easy to do. How? Simply click here to return to Party Themes.
Sep 23, 22 04:50 PM

Printable Would You Rather Halloween Game with fun either or icebreaker questions to get your party off to a howling start.

Sep 08, 22 12:25 AM

Printable Halloween pass the gift game poem for 10 players or more. Wrap enough treats and gag prizes to give one per guest or play the game white elephant style.

Sep 06, 22 01:38 PM

Printable Halloween picture puzzle game with 12 clues to 2 syllable words associated with All Hallows Eve. Brain stimulating fun for home and school parties.