Greek Mythology Sleepover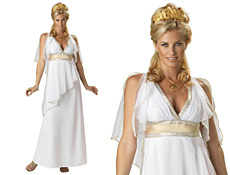 Aphrodite Costume


For my Greek mythology sleepover I had the guests dress in Greek like costumes and when the arrived, the inside of my house looked life a Greek palace.

I took my guests items to Aphrodite's enormous closet and escorted the guests to the backyard.
There, we decided who our character was.

For a few minutes we did research on our person. Then we made a game out of it.

For dessert we had the most amazing parfait! For snacks we had grapes(of course!).

I had the most amazing time with my friends and they did as well.


Information on 100s of Women in Greek Mythology
Join in and write your own page! It's easy to do. How? Simply click here to return to Party Themes.
Feb 24, 20 03:36 PM

This Tale of Peter Rabbit right left game is fun gift or prize giving. Read the story. Pass the prizes left or right. Great for school, parties, or Easter.

Feb 24, 20 02:07 PM

Use this Right Left Easter Game as a alternative way to exchange Easter treats and share the Bible Easter story. It's a great icebreaker for church parties and family Easter celebrations.

Feb 10, 20 05:20 PM

Fill in the blanks for this love letter mad lib and enjoy reading it back at your next valentine party, bridal shower, all girl get-together or birthday party.