Guess Mommy's Belly Circumference
by Mary Palacios
(Davie, FL)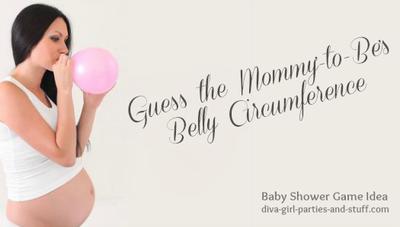 Guess Mommy's Belly Circumference Baby Shower Game
You may have played "Guess Mommy's Belly Circumference" at a baby shower before using a piece of string or something similar.

To throw a twist into the game, I had guests blow up balloons to the size they thought the mommy's belly might be.

Then, we put the mom-to-be in front of the balloon and measured by eye. Whoever came the closest won.

You'll need balloons that will blow up to widths of over a couple feet and I wouldn't recommend actually measuring the mom's belly. Just go by eye and keep it fun.
Join in and write your own page! It's easy to do. How? Simply click here to return to Games for a Baby Shower.
Nov 23, 22 03:29 PM

12 days of Christmas legend game based on lyrics used as a secret code to share faith and avoid persecution. Match each gift with its symbolic Christian meaning

Sep 23, 22 04:50 PM

Printable Would You Rather Halloween Game with fun either or icebreaker questions to get your party off to a howling start.

Sep 08, 22 12:25 AM

Printable Halloween pass the gift game poem for 10 players or more. Wrap enough treats and gag prizes to give one per guest or play the game white elephant style.