Guess the Baby Food Flavor
by Lori
(USA)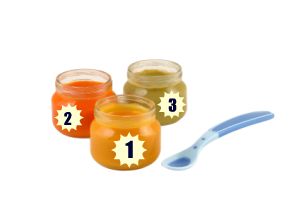 Guess What's in the Baby Food Jar

To play this baby shower game you'll need to buy 6-8 small jars of baby food, just the basic flavors (carrot, green beans, etc.) and number each jar.

Tear off the labels and give everyone at the shower a piece of paper.

Pass the jars around for people to guess the flavor.

Guests are NOT to open the jars. Just judge it by the color.

The person who guesses the most correct flavors wins a prize.



Join in and write your own page! It's easy to do. How? Simply click here to return to Games for a Baby Shower.
Nov 23, 22 03:29 PM

12 days of Christmas legend game based on lyrics used as a secret code to share faith and avoid persecution. Match each gift with its symbolic Christian meaning

Sep 23, 22 04:50 PM

Printable Would You Rather Halloween Game with fun either or icebreaker questions to get your party off to a howling start.

Sep 08, 22 12:25 AM

Printable Halloween pass the gift game poem for 10 players or more. Wrap enough treats and gag prizes to give one per guest or play the game white elephant style.