Harry Potter Party
by Claire
(CA)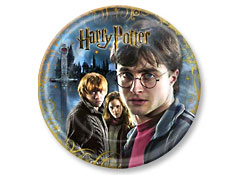 Harry Potter Party Supplies
Harry Potter Party Supplies and Costumes
Harry Potter Party Invitations:
You can use email to invite guests or do something like rewriting the acceptance letter Harry Potter received as an invitation to your party.
Harry Potter Party Decorations:
Decorate with a Diagon Alley theme in your basement and include Ollivander's Wands Shop, Madam Malkins Robes, etc.
In the front of your house you could put up a sign that reads, "Diagon Alley This Way" and "Forbidden Forest That Way."
Sorting:
Use an old, brown hat and duct tape a walkie-talkie to the inside.
Classes:
They don't need to be fancy. Just let the kids make bubbles in potions,learn about plants in Herbology, and practice the Harry Potter spells in defense against the dark arts (I recommend using a family member dressed up as a dementor/boggart).
Feast:
You can find tons of Harry Potter recipes online. Try
HarryPotterRecipes.net
Harry Potter Party Games:


Quidditch: Hang a hoop on either end of your yard. 6 players pass a "quaffle" and try to get it in a hoop. 4 players try to use a bludger to knock it out of the other team's hands (make sure the bludger is soft)
and 2 players try to find the snitch which is hidden in the backyard.


Harry Potter Trivia: Create a list of questions before the party. There are several quizzes online or you can make up your own.
Harry Potter Party Favors:
Give Bertie Botts Every Flavor Beans.