Healthy Blueberry Muffin Recipe
The Perfect Slumber Party or Tea Party Treat
My sister-in-law, Jaclynn, recently whipped together this healthy blueberry muffin recipe aka blueberry lentil muffin recipe. She loves experimenting in the kitchen and decided to try and integrate lentils in a muffin recipe. Shhh... don't tell the kids.
When she told me she made the muffins with pureed lentils I was skeptical, but WOW... these muffins are healthy AND delicious. Jaclynn was kind enough to let me share her recipe here.
Enjoy serving these healthy dessert treats at your tea parties, luncheons, and slumber party breakfasts!
Blueberry Muffin Recipe Ingredients
1¼ cups strained lentils
3 tbsps apple juice
½ cup maple syrup
1 tsp vanilla
1 tbsp olive oil
1½ cup whole wheat flour
¾ tsp salt
½ tsp cinnamon
2 tsps baking powder
2 eggs
1 cup fresh blueberries
How to Make Blueberry Muffins With Lentils
Puree strained lentils with the apple juice.
Add maple syrup, vanilla, and oil.
Mix all dry ingredients, and then add liquids.
Stir with wooden spoon.
Add eggs and stir till smooth – no need to use electric mixer.
Add as many blueberries as you like (I used 1 cup of fresh blueberries).
Blueberry Lentil Muffin Topping
5 tbsps brown sugar
2 tbsps flour
½ tsp cinnamon
1 tbsp butter or margarine
Baking Directions
Pour batter into a lined muffin pan, or small cake pan.
Sprinkle topping onto batter.
Bake at 375 for 30 min or until muffins spring back when lightly touched in the middle.
Makes 12 muffins.


Want a Printable Blueberry Muffin Recipe Card?
Simply fill in the form below and you'll have immediate access to these healthy blueberry muffin recipe cards. Print one for yourself and share one with a friend.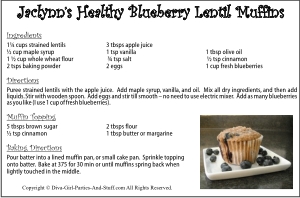 Prepare this healthy blueberry muffin recipe
for a Christmas tea party this year.
Nov 23, 22 03:29 PM

12 days of Christmas legend game based on lyrics used as a secret code to share faith and avoid persecution. Match each gift with its symbolic Christian meaning

Sep 23, 22 04:50 PM

Printable Would You Rather Halloween Game with fun either or icebreaker questions to get your party off to a howling start.

Sep 08, 22 12:25 AM

Printable Halloween pass the gift game poem for 10 players or more. Wrap enough treats and gag prizes to give one per guest or play the game white elephant style.