HollyWood Club Sleepover Party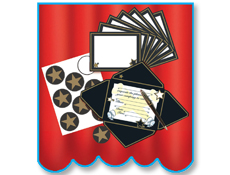 Hollywood Party Invitations
Step 1: Buy an awesome dress. You can get them at consignment shops for under $20. Really pretty ones,too.

Step 2: Find a place. It could be @ your house or at a local community center. (I'm using my house because I can decorate and everything)

Step 3: Download awesome music (I'm downloading karaoke music.)

Step 4: Invitations- No regular invitations will do. This is a grown- up - like party (I'm turning 13). Decorate a V.I.P pass telling who the person getting the invite is, use scrapbooking stuff to decorate. Punch a hole in the top and thread string through it, for a necklace. Put details on the back, like, dress up, where, and when. The guests must be wearing their V.I.P pass when they go through your driveway and have the greeter a checklist of invited people.

Step 5: The entrance. I am a singer and have a karaoke machine. I am going to plug my iPod to it and when everyone is there, I'm going to walk down the stairs to the living room, where everyone is, singing, in my beautiful dress. We're going to serve sparkling apple cider in wine glasses. You can make your entrance however you want.

Step 6: Everyone is going to get their picture taken and we'll dance and have karaoke and dance and drink cider.

Step 7: The after- party- Do whatever you want, learn dances, sing, and soak up the attention. You can do anything for the rest of your sleepover.
Join in and write your own page! It's easy to do. How? Simply click here to return to Party Themes.
Mar 06, 19 02:06 PM

Host your best St Patricks Day party ever with these cool party games and activities.Challenge friends to a round of green trivia, write funny limericks, or play a right left leprechaun game.

Feb 14, 19 01:44 PM

Match the fun fact to the candy in this Valentine fun candy trivia. How did 3 Musketeers get their name? What candy bar really satisfies? Answer key included.

Feb 14, 19 01:43 PM

Add this presidential trivia to an inauguration party, 4th of July event, trivia party, or pub night. The multiple choice questions also make for a fun quiz for teachers to use in the classroom.