Hollywood Party
by Alice
(England)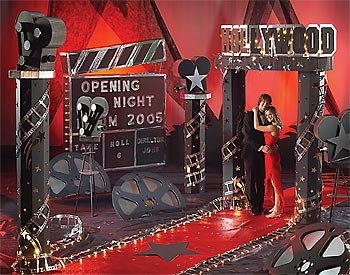 18th Birthday Hollywood Party
For my 18th birthday I was struggling on a theme and then it just clicked! HOLLYWOOD!

I love the old movie stars like Marilyn Monroe and Audrey Hepburn. They are legends, so I went for that.

I hired a large hotel and I sent invitations out in the theme of Hollywood Walk of Fame. I put each guest's name under the star! Then, I had large cut outs of Elvis, Audrey, and Frank to meet my guests as they arrived.

As my guests did arrive they were given a badge with the Hollywood sign on it.

Inside there were lots of reds and each table had gold star shape plates on them.

There were favor boxes in the shape of a movie clapboard and inside were small gold star chocolates. I also had different tribute acts performing such as Nat King Cole, Frank Sinatra, and Judy Garland!

There were film reels and lots of movie clappers that were life size and there was lots of gold and red.


Hollywood Party Supplies at Low Prices
I saved 2 years to have my perfect party and it was worth every single penny.