Hollywood Theme Bat Mitzvah
by Kelsi
(Michigan)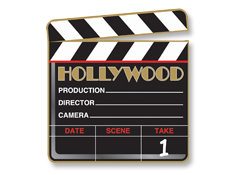 Hollywood Theme Bat Mitzvah Clapboard
Hollywood Theme Bat Mitzvah Party Ideas
Hollywood is amazing! I went to California with my family, and when we went to Hollywood, I was amazed! I decided right then that it would be my Bat Mitzvah theme.
Hollywood Theme Party Ideas


I had a fake Hollywood sign that was large enough to sit on.


I also had a green screen where you could take pictures that made it look like you were in Hollywood.


There was also a giant T.V. screen where my fave movies were showing.


My favorite activity was getting a picture taken next to a giant cardboard cutout of a celebrity.
What Guests Wore to the Party


Everyone dressed very fancily, and some people were dressed up as celebs!


I wore an ivory dress covered in sequins and sparkles... a little over the top, but it was Hollywood, after all! It went down to my ankles and was strapless.
Everyone who attended the party said that they had the best time. It was SOOO my DREAM PARTY!
Join in and write your own page! It's easy to do. How? Simply click here to return to Bat Mitzvah Party Themes.
Mar 06, 19 02:06 PM

Host your best St Patricks Day party ever with these cool party games and activities.Challenge friends to a round of green trivia, write funny limericks, or play a right left leprechaun game.

Feb 14, 19 01:44 PM

Match the fun fact to the candy in this Valentine fun candy trivia. How did 3 Musketeers get their name? What candy bar really satisfies? Answer key included.

Feb 14, 19 01:43 PM

Add this presidential trivia to an inauguration party, 4th of July event, trivia party, or pub night. The multiple choice questions also make for a fun quiz for teachers to use in the classroom.