Hollywood Theme Bat Mitzvah
by Kelsi
(Michigan)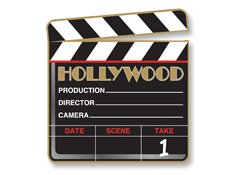 Hollywood Theme Bat Mitzvah Clapboard
Hollywood Theme Bat Mitzvah Party Ideas
Hollywood is amazing! I went to California with my family, and when we went to Hollywood, I was amazed! I decided right then that it would be my Bat Mitzvah theme.
Hollywood Theme Party Ideas


I had a fake Hollywood sign that was large enough to sit on.


I also had a green screen where you could take pictures that made it look like you were in Hollywood.


There was also a giant T.V. screen where my fave movies were showing.


My favorite activity was getting a picture taken next to a giant cardboard cutout of a celebrity.
What Guests Wore to the Party


Everyone dressed very fancily, and some people were dressed up as celebs!


I wore an ivory dress covered in sequins and sparkles... a little over the top, but it was Hollywood, after all! It went down to my ankles and was strapless.
Everyone who attended the party said that they had the best time. It was SOOO my DREAM PARTY!
Join in and write your own page! It's easy to do. How? Simply click here to return to Bat Mitzvah Party Themes.
Join in on Party Chats at Diva Girl Parties and Stuff Facebook.


Mar 16, 18 02:55 PM

The story of St Patrick is one of adventure, mystery, drama, action and more. Make it fun for every age to learn the story with a left right game about his life.

Mar 15, 18 05:59 PM

Try your luck at this Pot O' Trivia St. Patrick's Day trivia game that includes a mixed bag of questions related to the holiday. Printable version available for download including 2 options, one with…

Mar 13, 18 05:08 PM

30 green trivia questions to use at a St Patrick's Day party or trivia night. A printable version is available for download.