Ice Cream Party Social
Come Dressed inYour "Sundae" Best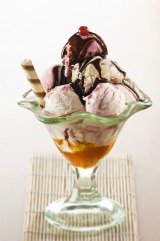 Party Theme
Ice Cream Social
Need an excuse for some sweet indulgence? Why not host an ice cream party social? After all, July is National Ice Cream month so you would only be doing your civic duty by honoring such an auspicious declaration. If the nation wants you to celebrate ice cream, are you going to argue?
And the only thing that makes ice cream even tastier is sharing it with a group of great friends. So whip up the invites, makes some space in your freezer, and enjoy an afternoon of fun, laughter, and sweet treats with even sweeter company.
Hosting An Ice Cream Social
The best thing about an ice cream party social – well, except for the ice cream part – is that it is one of the easiest parties to plan. The menu isn't extravagant so your preparation time will be cut down significantly. And, while you can make it as elaborate as you wish, even a simple gathering can slow the hands of time and create an atmosphere reminiscent of old fashioned traditions. Memories are built, stories are shared, and good times are celebrated over a bowl of good ice cream. So, you don't need to make things complicated because the sundaes, floats, and multi-flavored scoops will definitely be the stars of the show.
Ice Cream Party Invitation Ideas
Since you can plan your ice cream party social only a few days in advance, you can choose to send an evite or a simple printable invitation in the shape of an ice cream cone or box of Ben and Jerry's.
If you have a little more preparation time, you could create a label invitation and attach it to a bottle of sundae topping or tie a cone shaped tag to an ice cream scoop. If your party will have an ice cream parlor theme, why not design a coupon invitation, welcoming guests to visit your party for free samples of popular flavors.
Ice Cream Party Decorations
Decorations should be cheery and colorful. Recreate a traditional ice cream parlor using several small tables and wrought iron chairs. If you don't have access to these, card tables or lawn furniture will also work. Cover tables with pastel tablecloths, fill colorful metal buckets with cutlery and napkins, and make centerpieces by filling ice cream sundae glasses with flowers.
Create your own ice cream parlor sign. Buy glass bottles of soda or juice and make labels to match the name of your parlor.
A sundae bar is the easiest serving option, and the one most guests prefer since they can help themselves to a variety of flavors and toppings. Cover a long table with a cheerful tablecloth, use large metal tubs filled with ice to store ice cream, and make labels to identify each flavor or topping. Of course, no party would be complete without lots and lots of balloons. From polka dot to bright colors to interesting shapes, balloons will add a festive flair to your social. You can even make your own ice cream cone bouquet by using brown balloons for the cone and round pastel balloons for the scoops.
Add a little charm and sophistication to your party by hosting a tea party ice cream social in your backyard or garden. Simply cover tables with lacy cloths, use Victorian style hats for centerpieces or accent with delicate ice cream bowls filled with wildflowers. Of course, tea parties are about small, dainty servings, so use china tea cups as ice cream bowls and topping holders.
Ice Cream Party Supplies
More Ice Cream Party Supplies
What to Serve at An Ice Cream Theme Party
Simple. Ice cream, ice cream, and more ice cream! Serve a variety of types but keep the age of your party guests in mind. Always have the basic flavors such as vanilla and chocolate, then include a couple of fruity options, nutty options, dairy free options, and even fat free options such as frozen yogurt. Also, remember to include some fresh fruit and nuts among your sugary toppings. You want all your guests to enjoy your celebration, even those who are diabetic or on strict diets.
For a children's ice cream party, you are probably best to stick with plain flavors then up the excitement factor with interesting kid-appealing toppings such as sprinkles, marshmallows, candy coated chocolate, or sauces. But, if your guests are mostly adults, you can add the more sophisticated flavors like maple walnut, pistachio, or coffee. In fact, have a little fun with samples of more unusual types such as Watermelon Sorbet, Blueberry Cheesecake, or Strawberry Buttermilk. And, expand your topping options with some white chocolate or peanut butter sauce.
Also, you don't have to limit yourself to simple bowls of ice cream, although this is yummy! Use your creativity by making ice cream cookie sandwiches, ice cream pies, banana splits, or waffle bowl sundaes. And don't forget those delectable, old-fashioned floats – your favorite soda, filled with scoops of ice cream, and topped with mounds of whipped cream, sprinkles, and a single red maraschino cherry.
Hint: Use small serving containers so guests can try more than one kind of ice cream, or maybe even a little of each.
Ice Cream Party Cake Recipes
Ice Cream Social Games and Activities
You can simply gather friends together to enjoy a time of visiting around your sundae bar; but, if you want to keep them entertained with some fun games, there are plenty to choose from.
Play a Guess the Flavor game by having guests match bowls of ice cream with their unusual names such as Clusterfluff or Cherry Garcia.
Ice cream trivia that tests your guests knowledge of the history, brands, and uses of ice cream.
Printable games such as ice cream related word searches, scrambles, or crosswords.
Have an ice cream eating contest.
Make your own ice cream. It might even be fun if you asked guests to include their favorite homemade ice cream recipe (or make one up themselves) with their RSVP then choose the best, or most interesting one, to make at the party. For extra fun, try making your own ice cream by playing games with ice cream balls first. Instructions for making ice cream with an ice cream ball.
Children will love an Ice Cream Toppings Scavenger Hunt, or a sundae-making relay.
Ask guest to bring a topping and award a prize for the most creative. This can be something they buy or make themselves. Not only will you have a little help with the party food supplies, but you may be entertained with some of the interesting contributions.
If your ice cream social will be outside, you can always play lawn games such as Bocce Ball or Croquet.
To keep it theme related, give prizes such as ice cream scoops or gift certificates to a local ice cream parlor.
Have an ice cream cone shaped pinata.
Ice Cream Party Favors
It is always thoughtful to send guests home with a little memento to remind them of the great time they had at your party. And, the best kind of favors are often those that can also serve a purpose at the party. Since ice cream can be a messy adventure – for both young and old – give each guest personalized aprons or cloth napkins that make the perfect re-usable gift while also protect clothing from spills and stains.
Or, serve ice cream in engraved bowls or mugs that guests can take home. Other great ideas are ice cream cone shaped cookie cutters (and maybe even a few homemade cookies), ice cream cone bubbles or pens, a sundae glass, or an ice cream scoop.
An ice cream social party is perfect for all ages and is a great way to celebrate summer. So, circle the 3rd Sunday in July, National Ice Cream Day, on your calendar. Or, better yet, mark off the whole month. After all, if they are going to give us an entire month, shouldn't we take advantage of it. In fact, with all the flavors out there, wouldn't it be a great idea to sample a different kind of ice cream every day from July 1st to 31st?


Jul 25, 23 02:35 PM

Fun and challenging baby animal name game. What baby animal names do these 15 image clues rhyme with? Challenge yourself and your party guests. Free printable game and answers.

Jun 27, 23 02:30 PM

Challenge friends and family with this July 4th songs trivia quiz based on patriotic lyrics. From traditional to modern, there's a song for every generation.

Apr 26, 23 04:28 PM

Guess the Princess from an image of something they are associated with like a chameleon for Rapunzel or a pea for Princess Daria. Printable game with answers.