Mall Scavenger Hunt for a Fun Girls Night Out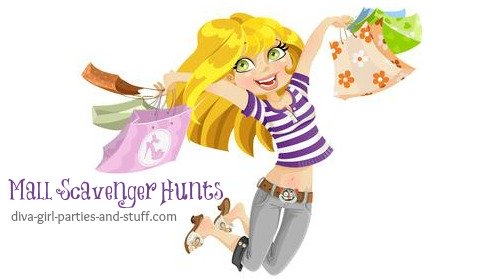 Every year my church hosts a womens' mall scavenger hunt for girls of all ages. It's a blast.
We search for items, solve trivia, get dressed up in ridiculous outfits, and approach strangers for a variety of crazy reasons. We laugh, compete, bond and then argue out our finds for the winning points over appetizers at a nearby restaurant.
We have many photos we threaten to put on Facebook and Twitter, but so far the pact is in tact... what happens at the mall, stays at the mall... expect the memories. They travel with us forever.


Printable Mall Scavenger Hunt Invitations


---
Sample Mall Scavenger Hunt
This is a combination photo hunt, item hunt, and trivia hunt. Teams must attempt to bring back as many photographed scenarios, answers, and items as they can in the allotted time. Some are more challenging than others, but if you use your creativity, wit, and charm, you just might come out the winners. Either way, you'll have FUN trying. So ladies, step up your FUN meter, let loose, and let the hunt begin...



Search & Find
Find the following items and bring them back. Any item that requires purchasing can be photographed instead - 2 pts each.
A price tag whose digits add up to 25
A print out from a wedding registry
A stranger's autograph along with a word of advice
A "Happy 100th birthday" card
A game that begins with "P"
Something your grandma would NOT enjoy getting for Christmas
A salesperson wearing red heels
BONUS:
Using ONLY $1.25 (including taxes), purchase the heaviest item you can find (must show receipt at weigh in). Team with the heaviest item gets 5 points.



Trivia Questions
Find the answer to each of the following trivia questions based on information and items available at this mall - 3 pts each.
How many stalls are in the food court ladies restroom?
How many dressing rooms are there in Winners?
What does it cost to rent a double stroller at this mall?
Who is on the cover of this weeks People magazine?
What does it cost to add bacon to your 6" sub at Subway?
How many mannequins are there in the windows of the stores between Chapters and Victoria Secret?
What are the pharmacy hours at Walmart on Saturdays?
What movie is playing in Cinema #2?
How many restaurants are in the food court?
How many buttons does the Sears elevator have on the inside?
Glamor Shots
Photograph the following scenarios. Photographer does NOT have to be in photos requiring the whole team - 4 pts each.
A team member shaking hands with a bearded man
A team member posing with a mannequin – both dressed the same
Your team all wearing something patriotic
Your team wearing UGSESASLNS (unscramble the word)
A team member that looks ready for bed
A team member wearing a t-shirt with a funny message
Your team saluting people as they exit Old Navy
Your team posing with BALRSULEM (unscramble the word)
Bonus Photo - 3 points
Move the e of a delicious frosted pastry from the beginning to the end. Photograph your team in front of the resulting adornment shop so that its name is visible in the photo.
More Mall Scavenger Hunt Ideas for Teens and Adults

More Scavenger Hunts

Diva Girl Parties and Stuff Home


Jul 25, 23 02:35 PM

Fun and challenging baby animal name game. What baby animal names do these 15 image clues rhyme with? Challenge yourself and your party guests. Free printable game and answers.

Jun 27, 23 02:30 PM

Challenge friends and family with this July 4th songs trivia quiz based on patriotic lyrics. From traditional to modern, there's a song for every generation.

Apr 26, 23 04:28 PM

Guess the Princess from an image of something they are associated with like a chameleon for Rapunzel or a pea for Princess Daria. Printable game with answers.