Movie in the Park
by Katy
(Oklahoma)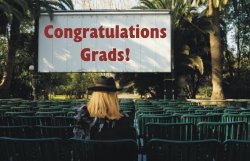 For my graduation party we had an outdoor movie in the park.

I was inspired by my New York trip the year before when we went to Bryant Park. Every summer they show movies on a big screen and people come and bring blankets and food and just sit on the grass and watch a movie. It was one of the coolest things I've ever done. So I wanted to recreate that.

We decorated the house with film cans, and other movie themed stuff, the colors were red and gold (like the Oscar's) and outside we built our own movie screen out of plywood, covered it with a sheet, borrowed a projector from a friend, and hooked it up to a portable DVD player.

All the guests were given a choice of three movies- scary, action, or romantic comedy- and wrote their selection out on movie tickets and at the end of the night we watched the movie with the most votes (scary won, of course).

After the sun set we watched the movie on lawn chairs and on blankets spread out on the grass.

You can do whatever you want with food. Since it was outdoors we went with typical hamburgers and hot dogs.

We wanted to rent a popcorn maker and have a table set with all kinds of classic movie candy, but we were on a budget and we just couldn't afford it. Next time.


Movie Party Supplies at Low Prices
Everyone loved the
movie in the park
and they still talk about it to this day.
Join in and write your own page! It's easy to do. How? Simply click here to return to Party Themes.
Nov 23, 22 03:29 PM

12 days of Christmas legend game based on lyrics used as a secret code to share faith and avoid persecution. Match each gift with its symbolic Christian meaning

Sep 23, 22 04:50 PM

Printable Would You Rather Halloween Game with fun either or icebreaker questions to get your party off to a howling start.

Sep 08, 22 12:25 AM

Printable Halloween pass the gift game poem for 10 players or more. Wrap enough treats and gag prizes to give one per guest or play the game white elephant style.