My Sweet 16 Hollywood Party
by Megan
(New Mexico)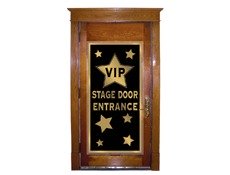 Hollywood Party Decor
Well we have a big house, and my mom planned a Hollywood party for me and my twin sister. We had a red carpet that started from our half driveway to our door, passed the 2 stairs, then to our meeting area.

We had flashing lights and a photographer taking pictures of the guests walking in and posing in front of our background wall that said "Megan and Sydney's Sweet 16th Hollywood Birthday Party". With some guests standing on each of both staircases laughing and having a good time in their dresses and tuxs watching guest, by guest come in.

We took guest pictures in the meeting room that had a picture of me and my sister hanging from the ceiling.

We had a pool in the back, white lights, and a glow in the dark Hollywood sign that was 7ft. tall.

We had fancy food, tables and white fancy chairs covered with a sashes, with a video screen that people had filmed saying Happy Birthday! in the living area.

We had silver and gold stars hanging from the ceiling too. Pictures of us were on a small billboard.

We also had a DJ and a dance floor next to the pool. We had wine glasses with non-alcoholic drinks. We also had other things too.