Diva Party Newspaper Scavenger Hunt List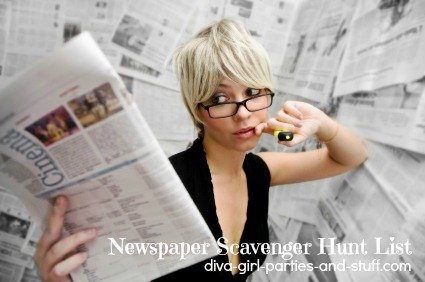 Divas are always newsworthy, so a newspaper scavenger hunt makes sense for a diva party.
Stock up on newspapers and pink handles scissors (optional). Then print as many lists as you need (2-4 guests per team).
Divide your guests into teams and allow each team to choose an equal number of newspapers.
Set the timer and let the games begin.
Award one point per clipping except as noted under bonus points.



List of Newspaper Items to Clip
A juicy piece of gossip
A movie with a female lead role
An ad for an automobile fit for a diva (Must be priced over $30,000)
An ad for spa treatments
A classified ad for a miniature dog
An engagement photo of someone who looks like a model
An article written by or about a successful business woman
A estate sale notice that includes art
A coupon for a photo shoot or sitting
A classified ad looking for an independent or successful woman
An ad for a home priced over $400,000
A headline that would make a funny caption over the photo of a famous diva
An ad for a live theatre or dance event
A reference to a famous diva
An ad for a lost diamond.
A photo or ad featuring shoes fit for a diva
An ad for a vacation to a luxurious location
An ad for a limousine service
BONUS POINTS:
The word diva anywhere in the paper (5 points)
The image of a famous diva (3 points)
Ad for a wine & cheese event (2 points)

More Newspaper Scavenger Hunts


General Newspaper Scavenger Hunt List

More Scavenger Hunt List Ideas

Diva Girl Parties and Stuff Home


Nov 25, 23 03:52 PM

Printable left right Christmas game based on the story of Scrooge from A Christmas Carol by Charles Dickens. Read the story and pass gifts left and right.

Nov 20, 23 05:55 PM

A crazy Christmas scavenger hunt involves finding unusual Christmas items that have been set up in the hunt area ahead of time. Will your guests spot that Rudolph has a green nose, etc.?

Nov 20, 23 04:58 PM

Over a dozen Christmas scavenger hunts to celebrate the holiday season. Tons of fun Christmas treasure hunt riddles, clues and printable lists.