Party Cocktails You Can Make
Yes, it's true YOU can make exotic and unusual party cocktails right in your own home and host an unforgettable cocktail party.

Lisa from Cupcake Creations offered to share some of her favorite party cocktail recipes and tips right here at Diva Girl Parties and Stuff.  How lucky are we?

One suggestion from me -- you MUST serve a few of her delicious cupcake creations at your party.  Mmmm! The chocolate mint cupcakes are absolutely divine.

I personally love displaying cupcakes on tiered serving platters or even baking them up as mini bite size servings just to change it up from time to time. Either way, they're a great match for Lisa's cocktail recipes and party ideas. 


LISA'S PARTY COCKTAILS - RECIPES AND IDEAS
Cocktail parties are the epitome of elegance and style. Learning the fine art of preparing and serving exotic cocktails can have a magical effect on your fancy drinks repertoire as well as your reputation for hosting the best cocktail parties ever.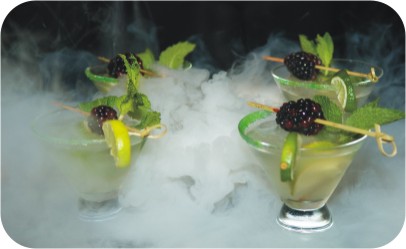 Spend some time practicing the skill of blending different ingredients in varying proportions and combinations so that you get cocktails that look colorfully exotic and taste just as good.


Multi-layered, Multicolored Party Cocktails
Acquire the skill of preparing multi-layered, multi-colored cocktails. They add a certain zing to your party that no other cocktail can. All you need are imagination and a steady hand as well as an assortment of beverages in contrasting colors and varying weights.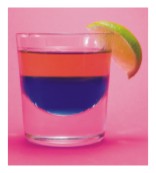 Starting with the heaviest liquid; pour it very slowly and steadily into the glass.
Continue pouring the other liquids, working your way down from the heavier liquids to the lightest ones in your cocktail.
Pouring every layer slowly over the back of a spoon will help the liquid fall gently into the glass and settle on top of the lower layer without disturbing it; this will help you get distinct layers of different colors.
Very sweet syrupy ingredients including fruity liqueurs and grenadines are the heaviest and they typically make up the lower most layer. Creamy ingredients such as Irish cream are the lightest and usually make up the top most layer. 


Set the Night on Fire
Grab everyone's attention by making this sensational drink just as your party is really swinging. Use extreme caution though and make sure you've practiced this act several times before even thinking of carrying it out in front of guests.
Swirl warm water to warm up the glass you intend using.

WARNING: If you don't warm the glass first, the cold glass could crack with the sudden rise in temperature caused by the flame.


Pour your beverage of choice into the warmed glass and keep aside.
Pour a small quantity of high-proof alcohol into a metal spoon and ignite this alcohol with a long match.
Now carefully pour the flaming liquid into the glass that has the beverage in it and serve immediately.
Blow out the flame before handing it over. 


Lava Lamp Party Cocktails
Add a touch of glamour and mystery to your cocktail party with these sizzling, easy to make lava lamp cocktails. 

In a medium bowl, add a 3 ounce package of blue or red colored instant gelatin mix with 1 cup boiling water.
Stir until the gelatin dissolves completely.
Then, add 1 cup vodka and stir to mix.
Pour this mixture into small containers or portion cups and keep in the refrigerator to set. This should be done much before the party starts or even the night before as the liquid takes at least 2 -3 hours to set firmly.
During the party, pour champagne into long, slender champagne flutes.
Break the gelatin into smaller pieces with a fork and slip it into the glass of champagne.
Serve with a stirrer.
A slight movement of the stirrer and the gelatin cubes will float around giving the drink the appearance of a lava lamp.


Executed perfectly, these three cocktail party skills will send your ratings zooming up the party- meter. 


Important Note: A girl has to eat, so be sure to serve some fancy cupcakes at your cocktail party. Lisa's chocolate mint cupcakes look spectacular and taste fantastic too. 

Jul 25, 23 02:35 PM

Fun and challenging baby animal name game. What baby animal names do these 15 image clues rhyme with? Challenge yourself and your party guests. Free printable game and answers.

Jun 27, 23 02:30 PM

Challenge friends and family with this July 4th songs trivia quiz based on patriotic lyrics. From traditional to modern, there's a song for every generation.

Apr 26, 23 04:28 PM

Guess the Princess from an image of something they are associated with like a chameleon for Rapunzel or a pea for Princess Daria. Printable game with answers.