Playdough Pictionary
The Sculpting Game Anyone Can Play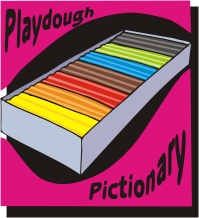 To play a game of Playdough Pictionary you will need a few friends, a list of items to sculpt, and some playdough or craft clay.

Use the list below or make a list of your own. Print, cut out and fold each of the listed items and put them in a container.

Divide players into two teams. Teams take turns having one team member pull an item from the container. Players must try to mold or sculpt the item they have picked with the playdough
If after a set time the team can't guess, allow the other team to guess. Score points accordingly. Go from one team to the next till all of the items have been selected.



Word List


pig


car


pencil


dice


bowling ball


hat


leaf


bunny


flower


heart


spider


mushroom





hamburger


hockey stick


balloon


bell


spoon


star


television


snowman


house


wagon


tree


table





ice cream cone


bird


kite


fish


butterfly


pizza


sword


flag


turtle


airplane


baseball bat


block



Play Playdough Pictionary at a Craft Party
Feb 24, 20 03:36 PM

This Tale of Peter Rabbit right left game is fun gift or prize giving. Read the story. Pass the prizes left or right. Great for school, parties, or Easter.

Feb 24, 20 02:07 PM

Use this Right Left Easter Game as a alternative way to exchange Easter treats and share the Bible Easter story. It's a great icebreaker for church parties and family Easter celebrations.

Feb 10, 20 05:20 PM

Fill in the blanks for this love letter mad lib and enjoy reading it back at your next valentine party, bridal shower, all girl get-together or birthday party.