Pretty Woman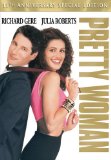 Pretty Woman
Pretty Woman
(15th Anniversary Special Edition)
I love the movie
Pretty Woman
. I probably watch it at least once a year... sometimes alone, but mostly with a few of my friends who love the movie as much as I do.
My husband cannot tolerate it and always finds something else to do. I guess it doesn't help that he is not a Julia Roberts fan. Perhaps if she were in the palm of a giant gorilla I could get him to watch the whole movie, start to finish. Oh well, that's what friends are for so this is a perfect example of a chick flick for a
girls
movie night.
The giggle that Julia Roberts lets out when Richard Gere closes the jewelry box is priceless... and talk about a Cinderella story... you've got to love her second visit to Rodeo Drive...
What do you know? The movie's on tv tonight. Got to make a few calls and find someone who wants to come over and watch it with me. I can smell the popcorn already...
Join in and write your own page! It's easy to do. How? Simply click here to return to Best Chick Flicks.
Nov 23, 22 03:29 PM

12 days of Christmas legend game based on lyrics used as a secret code to share faith and avoid persecution. Match each gift with its symbolic Christian meaning

Sep 23, 22 04:50 PM

Printable Would You Rather Halloween Game with fun either or icebreaker questions to get your party off to a howling start.

Sep 08, 22 12:25 AM

Printable Halloween pass the gift game poem for 10 players or more. Wrap enough treats and gag prizes to give one per guest or play the game white elephant style.