Princess Themed Bat Mitzvah
by Lisa
(Montana)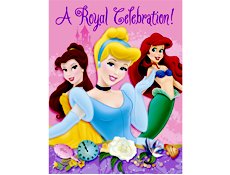 Princess Party Invitations
Princess Party Ideas
I actually used this website to think of my princess party theme. I am really girly, and when I saw the princess theme idea, I thought it was magnificent!
The invitations were shaped like castles,and everyone was told to dress up in either fancy clothing or as character from a princess book or fairytale.
The party was in a big square plain white room that gave it a lot of decorating abilities.
I blew up a picture of a fairytale castle as large as one of the walls and hung it there to give the room a more princess-like effect.
One side of the room had many tables, and the other side of the room was for dancing.
I decorated the place with silver, white, and pink balloons and the tableclothes were white. The centerpieces for the tables were bouquets of red, pink, and white roses. I also hung a lot of mini lights all around the room and there was a footbridge to cross to get from the eating area to the dancing area.
I wore a pale blue dress that had poofy short sleeves and went down to my ankles. The dress was meant to look like Cinderella's dress, because she is my favorite princess.
The music was
music that was from the princess movies
and some of the activities included tiara making, molding chocolate, and having a mini ball with a lot of people dancing.
The girls got tiaras for party favors and boys got crowns that looked like they could be worn by a king. It was my DREAM PARTY!
Reply:
I'm sure a regal time was had by all Lisa. Sounds like you put a lot of work and attention to detail into this party. I especially love the idea of the footbridge between areas. Very cool!