Create One of the Most Cherished 
Retirement Gifts for Women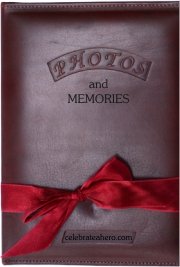 One of the most cherished and appreciated retirement gifts for women is a retirement scrapbook. Everyone loves receiving a unique gift that was created especially for them, and personalized books are the perfect way to recognize achievements, commemorate a career, or celebrate relationships.

These memory books are more than just a physical gift, they are a printed form of praise and recognition that will be treasured forever. Family, friends, and coworkers can contribute their favorite photos, funny stories, special memories, or inspirational quotes that will make this gift a true expression of love and appreciation.
A Unique Retirement Party Gift
You'll Have So Much Fun Making
Many women invest a lot of energy into their careers or jobs, often taking little time for themselves; and though retirement marks the end of this phase of their life, the workplace will undoubtedly be marked by their contributions. Staff, clients, family, and friends will have been touched in various ways and have different experiences to share. So, what better way to toast a retiree than to create a meaningful keepsake that will touch their heart and make them feel appreciated.
Recognizing the people we love makes them feel valuable, and it also makes us feel good when we are able to give a gift that recreates fond memories and brings a smile to the recipient's face. A retirement scrapbook is about more than just honoring years of service - it is a way of applauding past achievements and giving well wishes for an exciting future.
If you know a special person who will be retiring soon, surprise them with a retirement scrapbook. They will be both delighted and amazed at your thoughtfulness.
If you are looking to give someone one of these unique and personal retirement gifts for women, CelebrateaHero.com has an easy to follow service that can help you create just such a fabulous memento that will be remembered for a lifetime.
What Customers Have Said About Celebrate a Hero Memory Books
Please Note: Celebrate a Hero memory albums can be created for anyone and any occasion. They are not limited to retirements. Create albums for birthdays, graduations, weddings, new moms, and more.


---
---
Celebrate a Hero Special Coupon Offer
---
---
Book organizers can start a book for free and invite friends, family and co-workers to contribute. In order to view the contributions of others and/or print the book they will need to purchase a print option. The following coupon code can be used to receive $5.00 off of the cost of either self print $24.95 or deluxe printing 119.95 (a beautiful bound book).
Coupon Code: RN0ZVECE

Start Creating One of These Memorable Retirement Gifts for Women


Nov 25, 23 03:52 PM

Printable left right Christmas game based on the story of Scrooge from A Christmas Carol by Charles Dickens. Read the story and pass gifts left and right.

Nov 20, 23 05:55 PM

A crazy Christmas scavenger hunt involves finding unusual Christmas items that have been set up in the hunt area ahead of time. Will your guests spot that Rudolph has a green nose, etc.?

Nov 20, 23 04:58 PM

Over a dozen Christmas scavenger hunts to celebrate the holiday season. Tons of fun Christmas treasure hunt riddles, clues and printable lists.