Rock and Roll 50s Party
by Niko
(Canada)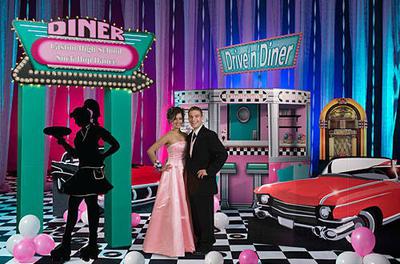 50s Birthday Party Decorations
My little sister was going to have a 50s sock hop party, but it didn't work out, so ever since I have been wanting to have one!

Everyone comes dressed as if they were in the 50s or 60s. Girls wear poodle skirts and little ribbons around their necks. Boys wear leather jackets, skinny jeans and slicked back hair.

OMG! Best party theme ever and especially if they're young! OMG! So cute. :)

Editor's Notes:

50s parties are a lot of fun at any age. I always love hosting and attending them.

You'll definitely want to serve root beer floats and have a penny candy bar.

Root beer floats are super easy to make.
Chill root beer


Spoon one or two scoops of vanilla ice cream into a tall glass


Slowly pour root beer into the glass
It is important to pour the root beer in slowly, as the foam will rise. When the foam recedes you can proceed to add more root beer. Continue till the glass is full.
Serve with one straw... or two for romantic settings.
A
juke box
is always a great touch whether you rent a full size, buy a mini one, or opt for a cardboard cutout for the atmosphere and photo booth op it brings.
Join in and write your own page! It's easy to do. How? Simply click here to return to Party Themes.
Nov 25, 23 03:52 PM

Printable left right Christmas game based on the story of Scrooge from A Christmas Carol by Charles Dickens. Read the story and pass gifts left and right.

Nov 20, 23 05:55 PM

A crazy Christmas scavenger hunt involves finding unusual Christmas items that have been set up in the hunt area ahead of time. Will your guests spot that Rudolph has a green nose, etc.?

Nov 20, 23 04:58 PM

Over a dozen Christmas scavenger hunts to celebrate the holiday season. Tons of fun Christmas treasure hunt riddles, clues and printable lists.