Smurf Party
by Lily
(Burlington, ON)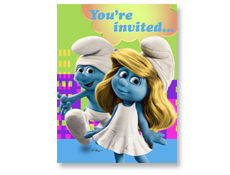 Smurf Party Invitations
I had a Smurf Party for my 13th bday. Everybody came dressed in white pants, blue shirts, and white hats.

When everybody arrived we had cake with blue icing and pizza.

We picked a day when Scooters Roller Palace in Mississauga, ON was doing a skate time from 8pm-3am. We went at around 10-11pm and stayed till 3am.

I made the invitations with blue construction paper and took white paper and wrote "YOU'RE INVITED!!!" We had so much fun!!!



Response: Great idea Lily, especially with the new Smurfs movie coming out this summer. Love 'em or leave 'em, they're part of pop culture and a fantastic theme to build a party around.


2011 Smurfs Movie Trailer
Smurf Name Generator
Change the names of your Smurf party guests for the day using this
Smurf name generator.
Just type in the names of your guests and you'll have their Smurf names in seconds. Mine turned out to be Smarty Pants Smurf.
Smurf Games
Smurf Names Game - See how many Smurf characters your guests can name in a specified period of time, or go around a circle and have guests name Smurfs till they can't think of one (at which time they are eliminated). Continue till there is one guest left standing.

Here are a few to get you started...


Baby Smurf

Brainy Smurf

Clumsy Smurf

Farmer Smurf

Grandpa Smurf

Greedy Smurf

Handy Smurf

Jokey Smurf

Lazy Smurf

Papa Smurf




The Smurfs Trivia - Compile a list of Smurf trivia such as:

Q. What Smurf interviews other Smurfs for his newspaper?
A. Reporter Smurf

Q. What Smurf plays the trumpet, much to the chagrin of the residents of Smurf village?
A. Harmony Smurf

Q. What Smurf makes all the clothes in Smurf village?
A. Tailor Smurf

Q. What Smurf cannot talk, but does make mechanical noises?
A. Clockwork Smurf

Q. What Smurf has a pet name Smoogle?
A. Nanny Smurf

Q. What Smurf did Gargamel create to destroy the other Smurfs?
A. Smurfette

Q. Who is the Strongest Smurf in Smurf village?
A. Hefty Smurf
Join in and write your own page! It's easy to do. How? Simply click here to return to Party Themes.
Mar 06, 19 02:06 PM

Host your best St Patricks Day party ever with these cool party games and activities.Challenge friends to a round of green trivia, write funny limericks, or play a right left leprechaun game.

Feb 14, 19 01:44 PM

Match the fun fact to the candy in this Valentine fun candy trivia. How did 3 Musketeers get their name? What candy bar really satisfies? Answer key included.

Feb 14, 19 01:43 PM

Add this presidential trivia to an inauguration party, 4th of July event, trivia party, or pub night. The multiple choice questions also make for a fun quiz for teachers to use in the classroom.