Sweet 16 Daytona Beach Scavenger Hunt
by Cher
(Florida)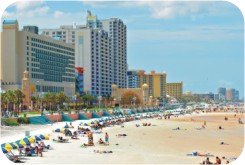 Sweet Sixteen Beach Hunt
I need a list for Daytona Beach, Florida for a sweet 16 party. There are plenty of shops, stores, beaches, boardwalks, rides and games with about 20 people total.


Sweet 16 Daytona Beach Scavenger Hunt Response:

Here is a sample list. If this is not what you had in mind please use the comment box below to let me know what ideas on the list come closest to what you are looking for.

Wendy

Sweet 16 Daytona Beach Scavenger Hunt List:

The signatures of 16 people who live in Daytona Beach.

A sample of Angel & Phelps chocolates.

A photo of a hot 16 year old guy walking on the beach.

A souvenir from Big Shark.

A photo of the team in front of any home or business with the number 16 on it.

The brochures of 16 area attractions.

The business card of a Daytona beach hotel with the number 16 anywhere on it.

The name of the last person to win the Nascar Race held at Daytona Beach written on a Daytona International Speedway postcard or brochure.

The price to rent a Candy Apple Red 1958 Corvette at Fun in the Sun Buggy and Beach Rentals.

Photo of the team in front of a lighthouse.

Photo of team members singing Happy Birthday with at least 2 strangers at the Daytona Beach Band Shell.

Convince 16 different strangers to give you one dollar for the birthday girl.

Photograph someone participating in a beach sport, blowing a kiss to the birthday girl.

A surf board keychain signed by a surfer.

A Daytona Beach 16 month calendar.

Collect 16 unique charms (be creative) that represent Daytona Beach as a special gift for the birthday girl.