Name the TV Families Party Trivia
We all have our favorite TV families and through the years we've watched many different parents and children grow up on our big screens from cozy seats in our living rooms.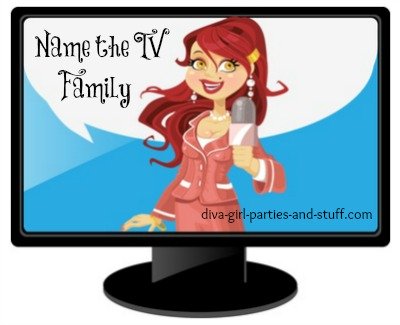 Some made us laugh.  Some made us cry.  Some inspired and taught us. And others made us breath a sigh of relief at being born into the families we were.
The object of this game is to name the TV families (not the shows) that are described below.  

Example: This Stone Age family of 3 lived next door to their best friends, the Rubbles.
Answer: THE FLINTSTONES
Ready?!?  Name the TV Show Families ...
 1. This family of 7 lived in Brooklyn Heights, NY. Dad was a doctor. Mom was a lawyer. Their only son was dyslexic.  
 2. This family of 6 consisted of 3 girls, one single dad, an uncle and dad's best friend. The youngest daughter was played by twins. 
 3. This fatherless family of 6 toured the country in a bus painted in a Mondrian-inspired color blocking pattern. 
 4. This hip democratic family of 6 raised a dogmatic republican who became the central focus of the show.
 5. This blended family of 8 was the result of a widower dad of 3 falling in love with and marrying a single mom of 3. 
 6. This family of 11 included grandma and grandpa and never missed bidding each other goodnight before the lights went out. 
 7. This blended family of 4 included a widowed dad and two adopted Harlem boys. 
 8. This Italian-American family of five was constantly dealing with the intrusiveness of the dad's parents and brother. 
 9. This satirical middle class family of 5 are utterly dysfunctional and never age.
10. This family of 5 lived in Suburban Detroit and had a mysterious neighbor that was constantly observing and sharing his wisdom.
Answers
 1. THE HUXTABLES (The Cosby Show)
 2. THE TANNERS (Full House)
 3. THE PARTRIDGES (The Partridge Family)
 4. THE KEATONS (Family Ties)
 5. THE BRADYS (The Brady Bunch)
 6. THE WALTONS (The Waltons)
 7. THE DRUMMONDS (Diff'rent Strokes)
 8. THE BARONES (Everybody Loves Raymond)
 9. THE SIMPSONS (The Simpsons)
10. THE TAYLORS (Home Improvement)
More Fun TV Show Trivia
Printable Children of TV Families Quiz
Nov 23, 22 03:29 PM

12 days of Christmas legend game based on lyrics used as a secret code to share faith and avoid persecution. Match each gift with its symbolic Christian meaning

Sep 23, 22 04:50 PM

Printable Would You Rather Halloween Game with fun either or icebreaker questions to get your party off to a howling start.

Sep 08, 22 12:25 AM

Printable Halloween pass the gift game poem for 10 players or more. Wrap enough treats and gag prizes to give one per guest or play the game white elephant style.