TV Show Theme Party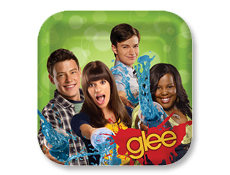 Glee Theme Party Supplies
For my birthday I had the idea to build a theme around my favorite tv show or movie.

What I did was put the names of all the characters in a hat and let my guests pick one out. Then they had to show up on the night of the party wearing their picked characters costume!!!

Some ideas for a tv show theme party are:


High School Musical

Hannah Montana

Hairspray

Grease

Disney Channel theme (any characters from any show on Disney Channel)
I really like this theme because I know that I won't have guests wearing the same character's outfit and I LOVE the surprise!!!!!
So, choose your favorite tv show or movie and decorate your party room accordingly.
E.g. High school musical- stage lights or classroom
You can also center the party bags around your theme.
E.g. Hannah Montana - HM Pens etc.
If the theme you choose is a musical you can play songs from it.
e.g. Hairspray - buy hairspray CD's!!!!!
This party is so much better from the plain old bowling parties!!!! SO ENJOY IT GIRLIES!!!
xx Love you all!
If you have any questions post them in the comments box below.