Vampire Masquerade Party
by Tammy
(Ruffsdale, PA)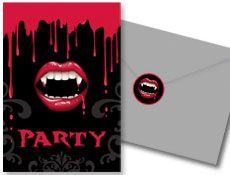 Vampire Party Invitations
For my vampire masquerade party...

I bought awesome invitations from the store.

Note: On the invitations ask all your guests to please dress in vampire theme costume (no werewolves) and a mask.


I rented a hall ($100.00) and hired a DJ ($150.00).


Food will be light (pizza and finger foods, such as stuffed mushrooms, shrimp w/cocktail sauce, veggie tray w/ dip, cracker and cheese tray, cupcakes, meatballs, etc.).

I'm going to have a 3 tier chocolate fountain with red chocolate so it appears like dripping blood.

I'm also going to set up a cheese fondue with breads cut into cubes.


Decorating with a black and red theme.

Hanging black bats from the ceiling.

Purchased some vampire skulls... and rats.

Using black and red table clothes.


Setting up two tables so that if guests would like to sit, they can, but mostly guests will mingle and therefore, be standing.


Making a red punch and throwing in gummy worms and dry ice (please note when handling dry ice you have to wear thermal gloves. Do NOT allow skin contact).


Decorating with a bunch of glow in the dark balloons.


Using a fog machine and a lot of other fun, scary decorations.
Hope you got some great ideas!
Join in and write your own page! It's easy to do. How? Simply click here to return to Party Themes.
Nov 23, 22 03:29 PM

12 days of Christmas legend game based on lyrics used as a secret code to share faith and avoid persecution. Match each gift with its symbolic Christian meaning

Sep 23, 22 04:50 PM

Printable Would You Rather Halloween Game with fun either or icebreaker questions to get your party off to a howling start.

Sep 08, 22 12:25 AM

Printable Halloween pass the gift game poem for 10 players or more. Wrap enough treats and gag prizes to give one per guest or play the game white elephant style.