Wedding Trivia
Perfect for Bridal Showers
I love this wedding trivia. It's includes a fun variety of wedding related questions and is perfect for a bridal shower or as a wedding icebreaker.
At a wedding, have the MC ask random wedding trivia questions throughout the night. Give each winner a handful of kisses or some other small prize.
At a bridal shower, use it as a game all at once or spread it out over the evening. It's sure to test everyone's knowledge of weddings, while sparking some lively conversation along the way.
---
Wedding Trivia Questions
01. In China, it is traditional for brides to wear what color?
A. White
B. Red
C. Gold
02. What is the average cost of an American wedding today?
A. $25,000
B. $9,000
C. $42,000
03. Wearing a white wedding dress was a trend started by what famous bride?
A. Queen Elizabeth
B. Mary Pickford
C. Queen Victoria
04. The song known as "Here Comes The Bride" by Wagner is actually officially titled what?
A. "Wedding March"
B. "Bridal Chorus"
C. "Champagne Trilogy"
05. The mehendi ceremony before an Indian bride's wedding involves decorating with what?
A. Flowers
B. Silk
C. Henna
06. What is the most popular flower used in American weddings?
A. Rose
B. Carnation
C. Lily
07. What percentage of brides receive a diamond engagement ring?
A. 49%
B. 94%
C. 74%
08. The custom of carrying a bouquet started for what purpose?
A. Decoration
B. Separate bride from bridesmaids
C. Ward off evil spirits
09. Giving almonds as a wedding favor originated from where?
A. Greek legend
B. Egyptian myth
C. British royalty
10. The word "bride" means what in old English?
A. Maid
B. Cook
C. Helper
11. What is the largest diamond mining company in the world?
A. De Beers
B. Zales
C. Tiffany & Co.
12. When she married Donald Trump, supermodel Melania Knauss wore a $100,000 gown by what designer?
A. Vera Wang
B. Monique Lhullier
C. Christian Dior
13. A round, brilliant cut diamond has how many facets?
A. 108
B. 58
C. 76
14. What is the length of an average honeymoon?
A. 7 days
B. 10 days
C. 12 days
15. What is the average age for brides/grooms in the US?
A. 22 brides/25 grooms
B. 25 brides/27 grooms
C. 27 brides/29 grooms
16. What is the most popular month for weddings?
A. July
B. June
C. August
17. Where is the most popular destination wedding for US couples?
A. Hawaii
B. Las Vegas
C. Bahamas
18. About 62% of weddings have a what?
A. Flower girl
B. Buffet reception
C. Wedding cake
19. In Northern Africa, what is thrown at the married couple as a symbol of fertility?
A. Coins
B. Figs
C. Wheat
20. Wedding veils from ancient Rome were what color?
A. White B. Black C. Yellow


WEDDING TRIVIA BONUS QUESTIONS:
1. How many glasses of wine are in one case of wine? Answer: 4-5 times the number of bottles in a case.

2. Gerbera daisies, lavender, hibiscus, marigold and jasmine are all popular wedding flowers that are in season when? Answer
---
Wedding Trivia Answers
01. B. Red / 02. A. $25,000 / 03. C. Queen Victoria / 04. B. "Bridal Chorus" / 05. C. Henna / 06. A. Rose / 07. C. 74% / 08. C. Ward off evil spirits / 09. A. Greek legend / 10. B. Cook / 11. A. De Beers / 12. C. Christian Dior / 13. B. 58 / 14. A. 7 days / 15. C. 27 brides/29 grooms / 16. B. June / 17. B. Las Vegas / 18. A. Flower girl / 19. B. Figs / 20. C. Yellow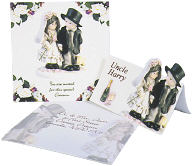 Questions and answers
for this Wedding Trivia
provided by
Amber from
Do It Yourself Weddings
---
From Wedding Trivia to More Trivia
More Bridal Shower Games
---
Feb 12, 23 04:19 PM

Add an extra challenge to game day with this Super bowl picture puzzle rebus. Guess the names of 10 players from the Kansas City Chiefs and Philadelphia Eagles.

Feb 12, 23 04:16 PM

Host a Super Bowl party with great food, games and friends. Add our Super Bowl trivia questions and icebreakers, and get everyone's game predictions pre-party.

Nov 23, 22 03:29 PM

12 days of Christmas legend game based on lyrics used as a secret code to share faith and avoid persecution. Match each gift with its symbolic Christian meaning