What a Girl Wants
by Jodi tenBrinke
(Dunnville, Ontario, Canada)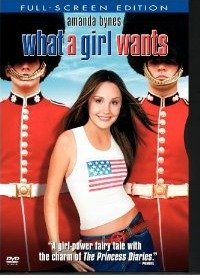 What A Girl Wants
What a Girl Wants
is a cute movie about a girl who wants to meet her dad, a British politician who is running for Prime Minister.

While she is in England, she meets a boy! However, she also discovers that the way she acts may cost her father the election.

It has Amanda Bynes in it. I just think it's a cute movie and I love it.

It's got its funny moments, but it also has serious parts!

It's a great chick flick that I think is amazing!


Join in and write your own page! It's easy to do. How? Simply click here to return to Best Chick Flicks.
Nov 23, 22 03:29 PM

12 days of Christmas legend game based on lyrics used as a secret code to share faith and avoid persecution. Match each gift with its symbolic Christian meaning

Sep 23, 22 04:50 PM

Printable Would You Rather Halloween Game with fun either or icebreaker questions to get your party off to a howling start.

Sep 08, 22 12:25 AM

Printable Halloween pass the gift game poem for 10 players or more. Wrap enough treats and gag prizes to give one per guest or play the game white elephant style.