12th Birthday Mixed Mall Scavenger Hunt
by Samantha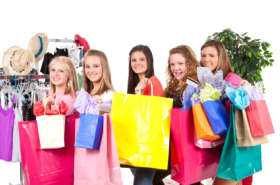 Mixed Mall Scavenger Hunt
For my 12th birthday party I had a mall scavenger hunt. I didn't really have a theme b/c I added all the kinds of scavenger hunts together.

There were 8 girls...2 groups of 4. Each group had a color but I wrote that on their invitations so when they got to the mall they could see who was wearing the same color as them and that means they were all in the same group. Each group had a bag with $5, a camera, the list & some other stuff I can't remember.

Every time we all saw each other the other team had to sing Happy Birthday to me. That part was so funny.

When we were done with the scavenger hunt we went to the Food Court and got lunch. Then we got a cookie cake. Then we all talked about how much FUN we had and did a little shopping!! No one could top my party.

MY MIXED MALL SCAVENGER HUNT LIST: (THIS IS ALL I CAN REMEMBER)

1. Napkin from food Court
2. Loose button
3. Blue thread or string
4. French fry (cannot buy it)
5. Straw from restaurant
6. Blue eyeshadow (3 points if every team member is wearing the blue eyeshadow)
7. Catalog
8. Clearance sticker
9. Price sticker

Then the informational portion of the Mall Scavenger Hunt!!!!!!!!!

1. How many buttons on the elevator?
2. How long does it take to get to the 2nd floor from the 1st floor on the escalator?
3. What year was the mall built in?
4. Why was the mall name what it is?
5. How many stores had a 50% sign in their windows?

AND THAT'S ALL I CAN REMEMBER! HOPE I HELPED YOU WITH SOME IDEAS. YOU WILL HAVE A BLAST IF U DO THIS PARTY!! HAVE FUN AND GOOD LUCK!
Join in and write your own page! It's easy to do. How? Simply click here to return to Your Scavenger Hunt Lists.
May 02, 22 10:18 AM

Need some last minute Mother's Day games and ideas? We've got some here...

Mar 16, 22 01:08 PM

Host your best St. Patrick's Day party ever with these cool party games and activities. Challenge friends to a round of green trivia, write funny limericks, or play a right left leprechaun game.

Feb 12, 22 05:36 PM

A challenging list of multiple choice super bowl trivia questions to add to your trivia, football, or Super Bowl parties. Use them as an icebreaker or play a full out competition.