Your Scavenger Hunt List Ideas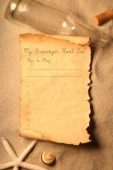 Scavenger hunts are so much fun, but coming up with the perfectscavenger hunt list can sometimes be a challenge. So, if you're feeling creative one day and an original idea and list comes to mind, why not share it so others can enjoy it to.
Your scavenger hunt list can be for any event or location. It can be an item hunt, challenge hunt, photo hunt, video hunt, indoor hunt, outdoor hunt... you name it. Your imagination is the only limit.
Please only submit your own ideas. Copying other people's lists just isn't cool. When we post your list you can even have your friends stop by and comment on it, add to it, or just rate it.
I'm looking forward to seeing just how creative you can be. 
---
Do You Have Ideas for a Fun
and Original Scavenger Hunt List?
Don't keep it to yourself... Share it!
Your Scavenger Hunt Lists
Click below to see scavenger hunts shared by other visitors to this page...

Nov 23, 22 03:29 PM

12 days of Christmas legend game based on lyrics used as a secret code to share faith and avoid persecution. Match each gift with its symbolic Christian meaning

Sep 23, 22 04:50 PM

Printable Would You Rather Halloween Game with fun either or icebreaker questions to get your party off to a howling start.

Sep 08, 22 12:25 AM

Printable Halloween pass the gift game poem for 10 players or more. Wrap enough treats and gag prizes to give one per guest or play the game white elephant style.