Bachelorette Scavenger Hunt
Bachelorette Scavenger Hunt
by Nichole
(Spokane, Wa)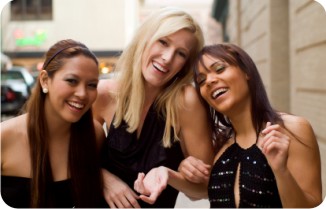 Bachelorette Night Out
We recently had a bachelorette party for a friend...and sent her on a bachelorette scavenger hunt to pick up her friends.

She left from home and was given a clue that led her to our former high school to pick up one of her high school friend.

Then, she received a clue that sent her to her college campus to pick up a friend she had met while attending college there.

The next clue lead her to a martini bar which was one of her friends favorite martini bars...they all had martinis there before she received her next clue...

... that lead her to a carousel, which she had to ride solo before getting the next clue...

... which lead her to a hotel to have a pamper night, martinis, and fun.

At each stop during the scavenger hunt she received little presents to wear: a bachelorette shirt that had a picture of her fiance on the back, a tiara, a veil, a ring pop and a garter.

It was great fun.



Fun Bachelorette Party Game
Fun Bachelorette Party Items
Who Knows The Bachelorette?
Join in and write your own page! It's easy to do. How? Simply click here to return to Your Scavenger Hunt Lists.
Nov 25, 23 03:52 PM

Printable left right Christmas game based on the story of Scrooge from A Christmas Carol by Charles Dickens. Read the story and pass gifts left and right.

Nov 20, 23 05:55 PM

A crazy Christmas scavenger hunt involves finding unusual Christmas items that have been set up in the hunt area ahead of time. Will your guests spot that Rudolph has a green nose, etc.?

Nov 20, 23 04:58 PM

Over a dozen Christmas scavenger hunts to celebrate the holiday season. Tons of fun Christmas treasure hunt riddles, clues and printable lists.