Ocean Scavenger Hunt
by Marie Darrow
(Grants Pass, Oregon, USA)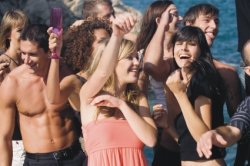 Ocean Scavenger Hunt Team
Everyone participating in our Ocean Scavenger Hunt event camps at an RV park at the ocean.

We have about 95 people attending. We call our event Crabfest and it occurs the weekend of Valentines Day/Presidents Day/Nascar Races. Our Scavenger Hunt involves components of all of these things.

Ocean Front Scavenger Hunt List:


A valentine card to a loved one

A crab shell from the beach

A wind chime made from natural ocean items

A car made from food items

An animal made from marshmallows

A roasting stick

Must sing a love song to RV office manager (They must initial off on the song) Extra points if they sing the song to our whole group

A dead fish

A necklace or belt made from beach items

An unopened bottle of an Oregon brewed beer (Those are gathered at the end and made into one of the scavenger hunt prizes)

An unscratched valentine lottery ticket (This is collected at the end and made into one of the scavenger hunt prizes)

A 'boxtop for education" (These are gathered and given to a school)

A canned food item (Gathered and given to local food bank)

A plastic grocery bag of beach litter (deposited in a dumpster - cleans up the environment)

Obtain a license number off the RV parked in a certain parking of the RV park.

A business card of a local business.

A receipt from the local grocery store.

A pencil rubbing of a police or fire badge.

A pencil rubbing of a sign from a local business.

A packet of honey.

Any item of red underclothing (bra, underwear, etc)

A nature item in the shape of a heart. (rocks, driftwood, etc.)

These are just a few of the items. We also ask for all sorts of items you would normally find in an RV.
Join in and write your own page! It's easy to do. How? Simply click here to return to Your Scavenger Hunt Lists.
Feb 12, 23 04:19 PM

Add an extra challenge to game day with this Super bowl picture puzzle rebus. Guess the names of 10 players from the Kansas City Chiefs and Philadelphia Eagles.

Feb 12, 23 04:16 PM

Host a Super Bowl party with great food, games and friends. Add our Super Bowl trivia questions and icebreakers, and get everyone's game predictions pre-party.

Nov 23, 22 03:29 PM

12 days of Christmas legend game based on lyrics used as a secret code to share faith and avoid persecution. Match each gift with its symbolic Christian meaning