Manitoba Moose Game
Scavenger Hunt
by Jeffrey Sutherland
(Winnipeg, Manitoba, Canada)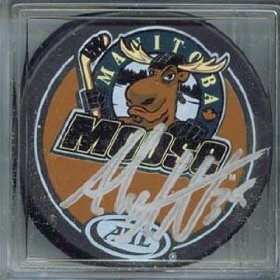 Manitoba Moose Hockey Puck
Read the clues... Follow your dreams.

This scavenger hunt was made specifically for the youth that are attending today's workshops and this evening's Manitoba Moose game (01-29-2010).

1) Ticket / You need me to get into the arena.
2) Sticker / Riddle:
3) Plastic bottle / Recycle the plastic water ________.
4) Smile / (?) When you say cheese, what are you doing?
5) An autograph from each of the booths /
6) Styrofoam cup /
7) A program from the MTS Centre /
8) T_____ paper /
9) New friend /
10) Mick E. Moose Autograph /
11) An item from each of the booths
12) A fact about a booth(s)
13) Name of a moose player
14) Paper clips
15) Pencils


Manitoba Moose Hockey Stuff


This scavenger hunt was created for a specific group, but you can use it as a template to create your own.

I would assume that there is supposed to be a riddle that leads to a sticker. Possibly Jeffrey can clarify what some of the missing clues are after the hunt takes place.





Join in and write your own page! It's easy to do. How? Simply click here to return to Your Scavenger Hunt Lists.
Nov 23, 22 03:29 PM

12 days of Christmas legend game based on lyrics used as a secret code to share faith and avoid persecution. Match each gift with its symbolic Christian meaning

Sep 23, 22 04:50 PM

Printable Would You Rather Halloween Game with fun either or icebreaker questions to get your party off to a howling start.

Sep 08, 22 12:25 AM

Printable Halloween pass the gift game poem for 10 players or more. Wrap enough treats and gag prizes to give one per guest or play the game white elephant style.