A Custom Anniversary Poem
by the Poem Lady
If you're looking for a custom anniversary poem for your special day, the poem lady is the the person to contact.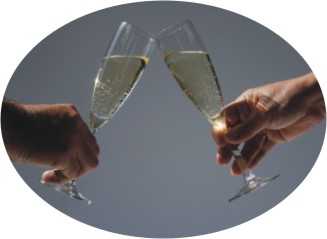 Whether you need the poem for yourself or for a special couple you know, fill in the form on her order page with the requested details and the poem lady will craft a custom anniversary poem for you that will make your event truly memorable. 


---
Sample Anniversary Poem
We have gathered together those important in my life 
To celebrate the day Josh made me his wife
How fondly I recall the 24th of September
It was a day, I for one, will always remember
Picture the two of us, we were a site to see
Me in the Air Force and him in the Army
I was stationed in New Mexico as most of you know
He was in Georgia and I just had to go
I missed him so much that I could nearly have cried
Next thing that I knew, I was there by his side
Being that we hail from the Lone Star State
We were off to Texas Roadhouse and just couldn't wait
Reservations were made, a table wouldn't be chancy
This from the man who thinks Olive Garden's too fancy
The waitresses were sweet which was no abnormality
I just chalked it off to that southern hospitality
All throughout dinner I thought "Oh, what a prize"
As we sat across from each other making lovey dovey eyes
When we finished our drinks, we were as happy as could be
As he took my hand and said how much he loved me
Then down on one knee my dear beloved went
Of course there were peanut shells on his knee that was bent
His eyes they were shining, that's all I could see 
Then I heard those four words "Will you marry me?"
He pulled out a ring and placed it onto my finger
And looked in my eyes as he let the words linger
My face turned bright red, I have to confess
I hugged him and cried and of course I said yes
The cheers and the smiles came from all who were near
As the waitresses announced it for everyone to hear
Later at the car we put on our song 
And danced to "Bless the Broken Road" the whole night long
It was the perfect night there under the stars
I never felt anything like the love that was ours
The very next day we truly felt blessed
In our button up shirts and jeans we were dressed
If he had his way, a ball cap he'd choose
As we headed off to the courthouse to say our "I dos"
We are so very different of that there's no doubt
Everything rolls off his back while I often stress out
He's tough and outgoing and I tend to be quiet as such
He's very competitive, and me, not so much
But we make a great couple and that's what it's about
After years together we balance each other out
And that's the whole story, told as best as I could
Of how we became Mr. and Mrs. Osgood
Having you all here is the best gift I can think of
Thank you so much for coming and celebrating our love
by Jill S. ~ the Poem Lady

Order Your Custom Anniversary Poem Here
Nov 25, 23 03:52 PM

Printable left right Christmas game based on the story of Scrooge from A Christmas Carol by Charles Dickens. Read the story and pass gifts left and right.

Nov 20, 23 05:55 PM

A crazy Christmas scavenger hunt involves finding unusual Christmas items that have been set up in the hunt area ahead of time. Will your guests spot that Rudolph has a green nose, etc.?

Nov 20, 23 04:58 PM

Over a dozen Christmas scavenger hunts to celebrate the holiday season. Tons of fun Christmas treasure hunt riddles, clues and printable lists.