Around The House Slumber Party Scavenger Hunt
by Chelsea
(Ottawa Kansas United States)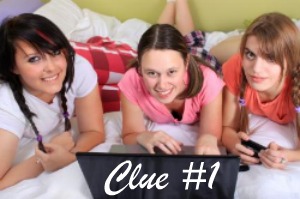 Slumber Party Scavenger Hunt
I'm a 13 year old girl trying to plan a sleepover and I want to have a scavenger hunt at my house and just in my house. We can't go all over town like in most of the hunts on this site. I want my guests to have to figure out to go to the fridge and then to the garage and then to the mailbox or something like that.


I have a couple of hunts that fit your request perfectly on my scavenger hunt site.

Goodie Bag Clue Hunt - This hunt includes a variety of scavenger hunt clues like riddle clues, secret code clues, rebus puzzle clues and more. There are clues for two teams and they lead to different locations in the house like a microwave, fridge, dryer, mailbox and more. This makes for a fun way to seek and find treat bags, but it could also lead to pizza and cake or a dvd to play later at night.


Around the Home Poem Clue Hunt - This hunt consists of rhyming clues that also lead to a variety of areas in the home like a TV, bathtub, computer, and garage.
Both of the above
around the home scavenger hunts
are available in printable versions by request on the pages noted above.
You can use them as they are or create your own hunt by using the ideas for inspiration.
More Ideas for Creating Scavenger Hunt Clues
Have a fun slumber party!
Join in and write your own page! It's easy to do. How? Simply click here to return to Your Scavenger Hunt Requests.
Nov 23, 22 03:29 PM

12 days of Christmas legend game based on lyrics used as a secret code to share faith and avoid persecution. Match each gift with its symbolic Christian meaning

Sep 23, 22 04:50 PM

Printable Would You Rather Halloween Game with fun either or icebreaker questions to get your party off to a howling start.

Sep 08, 22 12:25 AM

Printable Halloween pass the gift game poem for 10 players or more. Wrap enough treats and gag prizes to give one per guest or play the game white elephant style.