Around Town Scavenger Hunt List Ideas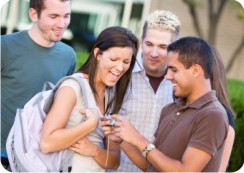 Around Town Scavenger Hunt Team Photo
To get started on this Around Town Scavenger Hunt all you need to do is gather two or more teams of friends together and set the challenge.

Teams will each need a copy of this list, a digital or phone camera, a time limit, and a place and time to meet back to determine WHO captured the most photos from the list below.



Around Town Scavenger Hunt List
Get Photos of the following...
• Yellow Car
• Horse
• Bus
• Flag
• Bird
• The Number 18
• Pink House
• Red Door
• Bald man
• Everyone except one person in your group on a slide
• Everyone except one person in your group in some kind of water
(at least up to your ankle)
• One person in your group must dress in their opposite sex clothes
(must be a full outfit)
• One person must hold a strangers hand without out telling them what it is for
• A baggie full of sand
• The team
(minus photographer)
doing handstands or cartwheels in a field
• Someone jumping off a swing
• Tombstone with the name "smith"
• A random rock wall
(not in your own or a friends yard)
• A yellow flower
• The team
(minus photographer)
perusing a 2006 yearbook
• Someone sliding into 2nd base
• A made basket
(basketball)
• The entire team with matching friendship bracelets
(or anklets)
• Someone walking through a drive thru window
• Team
(minus photographer)
in a gazebo
• Team
(minus photographer)
sitting on a big rock
• Someone pumping a strangers gas
• Team
(minus photographer)
reading a newspaper on a park bench
• Team
(minus photographer)
pressed against the window of an ATM vestibule
• A "Beatles"-esque/ Abbey Road type photo of the team crossing the street
• A team member in a tree
• A team member making a phone call from a pay phone
• Team
(minus photographer)
in front of a war memorial giving Peace signs
• Team
(minus photographer)
sharing a soda in a restaurant/bar
• Team
(minus photographer)
recreating a fight scene
• Get photo of a stranger dancing
• A photo of each team member doing the "Captain Morgan" stance in different locations
• Entire team photo
(must be creative)
Another Around Town Scavenger Hunt