Your Scavenger Hunt List Ideas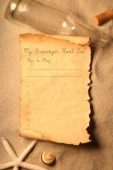 Scavenger hunts are so much fun, but coming up with the perfect scavenger hunt list can sometimes be a challenge. So, if you're feeling creative one day and an original idea and list comes to mind, why not share it so others can enjoy it to.
Your scavenger hunt list can be for any event or location. It can be an item hunt, challenge hunt, photo hunt, video hunt, indoor hunt, outdoor hunt... you name it. Your imagination is the only limit.
Please only submit your own ideas. Copying other people's lists just isn't cool. When we post your list you can even have your friends stop by and comment on it, add to it, or just rate it.
I'm looking forward to seeing just how creative you can be.


Do You Have Ideas for a Fun
and Original Scavenger Hunt List?
Don't keep it to yourself... Share it!
Your Scavenger Hunt Lists
Click below to see scavenger hunts shared by other visitors to this page...

Nov 06, 19 01:59 PM

To win this Christmas carol game you might need a thesaurus of word knowledge. Can you guess the popular Christmas songs from their fun new synonymous titles?

Oct 18, 19 06:02 PM

Play this ghost story mad lib game at Halloween parties, camp, home, and school. Create a funny scary story that will make you scream with laughter.

Oct 16, 19 02:57 PM

Plan to play Family Feud game Halloween edition at your next Halloween party using our survey Q&As. Check out the fun video to spark ideas for making your game spooktacular. Time to play!